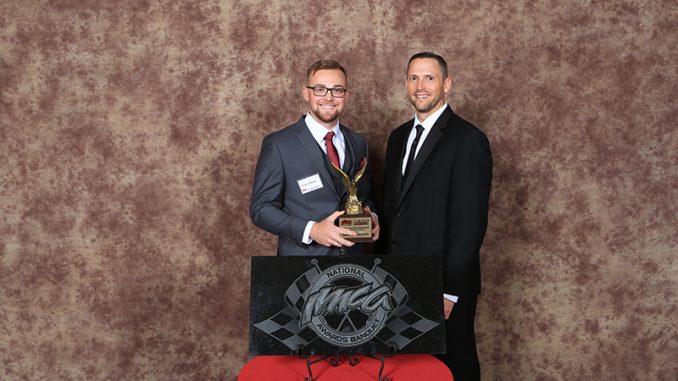 PEORIA, Ariz. – Not long after IMCA made it official, the social media congratulations started rolling in for Big Daddy Race Cars Southern Region rookie of the year Nathan DeRagon.
From Peoria and the first Arizona driver to earn the regional Hobby Stock rookie prize, DeRagon to­taled five wins and another top five finishes in just 18 freshman season starts.
"The rules brought us in. I like being able to race at different tracks under the same set of rules," said DeRagon, a native Californian. "We wanted to run for the state championship and regional rookie. We hit the midpoint of the season and had problems with the car but still won rookie of the year."
Travel buddy of ROY runner-up Scott Tenney, DeRagon had those mechanical issues figured out and finished the year with a flourish.
He was a double winner at Canyon's Dan Shepherd Memorial special, ran second and third at Cocopah Speedway, then ventured to Fairgrounds Speedway in Colorado to win twice on the final weekend of the IMCA Speedway Motors Weekly Racing point season.
DeRagon was seventh in the regional standings and eighth at Canyon, where he made 11 starts. His career first win in the class had come at Cocopah Speedway on April 6.
"We had some good runs and just started finding the extra bite we needed to put it in victory lane," said DeRagon, who had previously raced mini dwarfs, junior sprints, factory stocks and street stocks. "We had a good year. Everyone has been super excited for me."
Starts 18            Wins 5          Additional Top Five's 5
HIS CREW: Mother Melody.
HIS SPONSORS: Brandon Painter and Painter-Built Motorsports, Ray and Mary from Smog Tests Only, Leone's Garage and MRR Racing, all of San Diego, Calif.; Hodad's Hamburgers of Ocean Beach, Calif.; Scott and Candice Tenney and 21T Motorsports of Yuma; and Kevin Bates with Victory Graphix of LeMesa.