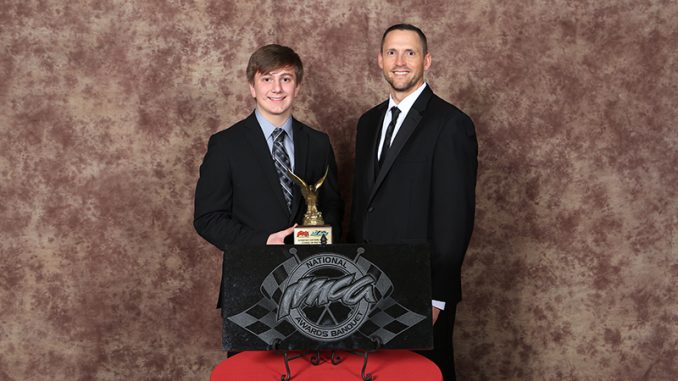 COLUMBIAVILLE, Mich. – Back-to-back feature wins at Thunderbird Raceway put the wraps on Chase Burda's history-making first IMCA season.
The 14-year-old earned rookie of the year honors in the Dirt Works Eastern Region, becoming the youngest IMCA Modified driver to accomplish the regional feat.
A consistent runner from his first night out in late April, the Lapeer High School freshman made like lightning in winning Aug. 24 and Aug. 31 main events at Muskegon, some three hours from his Columbiaville, Mich., home.
"It was a big relief to finally get my first win. There was a big crowd and the track surface was great that night. It was super exciting," he said. "We were confident the next weekend and were able to get the lead and the win. It was an awesome feeling to win back to back."
Burda had raced quarter midgets and then a street stock for two seasons before getting into a Modified.
As a rookie, he campaigned in a 2017 GRT Chassis purchased last year and made the transition from a different motor program and handling issues, most notably going into the corners.
He was fifth in points at Tri-City Motor Speedway, 10th at Thunderbird and 14th in the region, with each of his 23 starts coming in veteran-filled fields.
" I was nervous early in the season," admitted Burda, "but I had a lot of fun racing with those guys."
Starts 23            Wins 2          Additional Top Five's 6
HIS CREW: Parents Rob and Shari, uncle Mike Burda, Phil Tallieu, Tim Wilcox, Tim Dale and Jacob Elling.
HIS SPONSORS: Rob's Service, Finish Line Auto Sales and Express Auto Graphics, all of Lapeer; Super Flight Oils; Energy Release; and DEI Marketing.