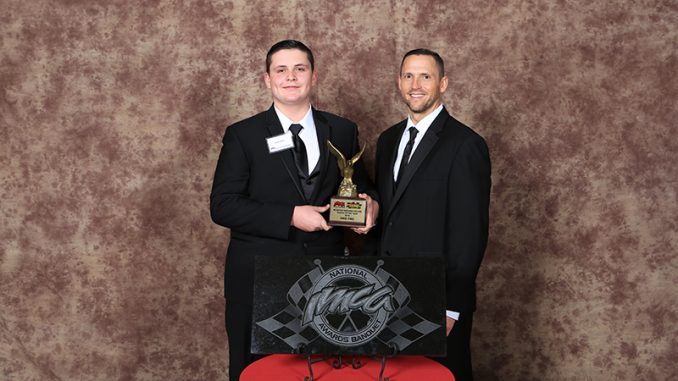 PAHRUMP, Nev. – Jake Pike's first goal for his rookie season was just getting comfortable be­hind the wheel of his IMCA Modified.
His second goal quickly became getting comfortable in victory lane.
The 15-year-old from Pahrump, Nev., took the checkers in just his fifth start in the division, at Mo­have Valley Raceway on March 16. He won at the same venue two months later and raced at 19 different tracks in five states on the way to earning the Shaw Race Cars Western Region rookie of the year award.
"I did not expect to win that soon. I was still trying to get comfortable in the car and everything fell into place," said Pike, a sophomore at Pahrump Valley High School and son of 2001 regional cham­pion Jason Pike. "I started sixth, got to the lead and held on. My first IMCA Modified win is the biggest thing I've done in my life."
He'd raced in local modlite and mini dwarf classes before stepping up to a Modified, a 2010 Hughes Chassis purchased last fall out of Oklahoma.
"I've always wanted to race a Modified and follow in my dad's footsteps," Pike said. "We had some ups and downs but it was a pretty good season. We traveled 18,000 miles and met a lot of nice people."
Those travels took him to northern California and Oregon for the Wild West Modified Shootout. Pike qualified for seven of the eight features and finished 12th in point standings for the June 21-29 series.
"We had a few guys from Pahrump who'd gone up there and told us what a good time it was," said Pike. "We got to race eight times in 10 nights, learned a lot about the car and got to run with different people. We did great for never having been to any of the tracks. We won some heats and made all the mains except one. It was pretty fun."
Starts 41            Wins 2          Additional Top Five's 9
HIS CREW: Parents Jason and Tanya, sisters Jacey and Jaiden, grandfather Jim Pike, cousin Ryan Pike and Bill Tognetti.
HIS SPONSORS: Jim Pike Well Drilling and JP Trucking, both of Pahrump.