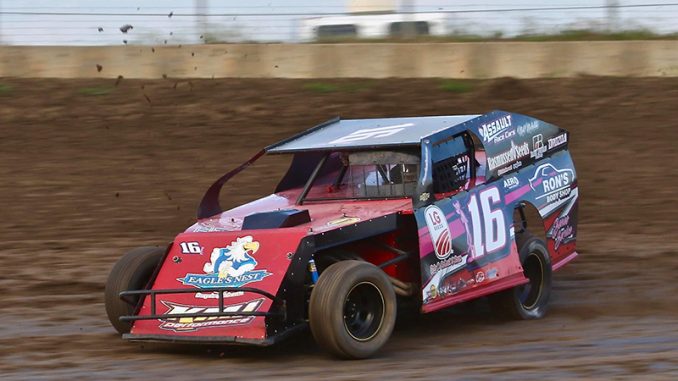 DAVID CITY, Neb. – Wanting to be the best, Austin Svoboda raced against the best much of the season and was rewarded for his efforts with rookie of the year honors in IMCA's Jet Racing Central Region for Modifieds.
The David City, Neb., driver enjoyed a successful Karl Kustoms Northern SportMod career before making 44 starts in his freshman Modified campaign. He ran with national champion Jordan Grabouski on 27 of those nights and with regional runner-up Anthony Roth on 30 occasions.
"I felt like I had accomplished everything I wanted to in a SportMod and that I was good enough to race a Modified. To race side-by-side with guys like Grabouski and Roth was awesome," he said. "I want to be the best so I wanted to race the best. It's harder to win but it makes you better. It's what makes a fourth or fifth place finish feel like a win."
The son of Modified and Late Model veteran Tom Svoboda, he'd won seven Northern SportMod features each of the last two years, was track champion at Junction Motor Speedway the last three seasons and the E3 Spark Plugs Nebraska State king in 2018.
Svoboda was runner-up to Justin Gregg at McCool Junction this season. His career first Modified win came at JMS on July 6.
"I never came out expecting to click off a lot of wins, especially against the guys I race with. Getting that first win made it feel like everything we'd done was worth it," he said. "I spent enough time in a SportMod and won everything but a national championship, and now I have a year in a Modified under my belt. I have a good base for next year."
Starts 44            Wins 1          Additional Top Five's 13
HIS CREW: Father Tom Svoboda, brother Justin Svoboda, uncle Ron Svoboda, Trevor Fozzard, Mark Ladwig, Peter Drozda and Eric Pflun.
HIS SPONSORS: Rasmussen Seeds and The Eagle's Nest Bar and Grill, both of Surprise; Speedway Motors of Lincoln; JLR Farms and RC Pit Stop, both of Rising City; Pete C. Schmidt and Sons Seeds of Bellwood; Ron's Body Shop of York; Benes Service and Svoboda Red Angus, both of David City; Mumm Show Cattle of Alexandria; Don Sterup ad Farm Bureau Insurance and Meysenburg Show Cattle, both of Osceola; Mark Ladwig Trucking of Linwood; AERO Race Wheels of Estherville, Iowa; and KMJ Performance and Assault Race Cars, both of Story City, Iowa.