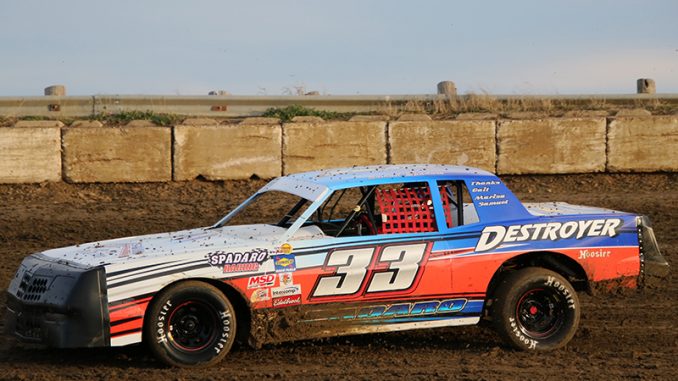 WEATHERFORD, Texas – Sam Spadaro Jr. got a few practice laps in his dad's factory stock under his belt last year.
In his first competitive season, the quick learner outran his father Sam Sr. in the race for the IMCA Sunoco Stock Car EQ Cylinder Heads Southern Region rookie of the year award.
"I worked on his car. Dad let me drive after the races at Stephenville and I caught the bug," Spadaro said. "He bought a race-ready Stock Car, I raced a converted factory stock and it was awesome. The adrenaline rush never went away. I think about racing even when I'm at work or at school."
Nineteen years old and now studying business and finance at hometown Weatherford Community College, Spadaro notched four top-five finishes in his final 12 starts of the season.
Tenth in the regional standings, Spadaro was the runner-up at Boyd Raceway, tied for seventh in the standings at 281 with his father and ended in 11th at Kennedale Speedway Park.
"I liked the competition. I could go from track to track and be competitive, I liked all the tracks I raced at and the people I raced with were super," said Spadaro.
His 2019 highlight came on the final night of the season at Kennedale.
"My dad and I raced side-by-side for most of our heat race. It was crazy to look over and see him right at my door," he said. "I think I won by a radiator that night."
Starts 30            Wins 0          Top Five's 4
HIS CREW: Parents Sam Sr. and Gail and sister Marisa.
HIS SPONSORS: Darryl Campbell and Destroyer Chassis, Kennedale; and Nate and Mindy Roberts at Assault Steel and Triple 7 Graphics, both of Weatherford.