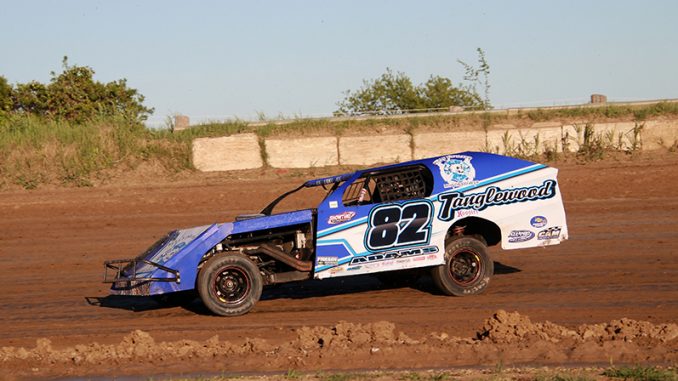 HASLET, Texas – Winning his first-ever IMCA Modified start at 281 Speedway?
Unexpected.
Winning at Abilene Speedway ahead of Josh McGaha in the defending regional champion's old car?
Even more so.
Mark Adams made the quick transition from an IMCA Sunoco Stock Car to earn Razor Chassis South Central Region rookie of the year honors, traveling to six different tracks over the course of 35 starts.
"I wanted to do something different this season and Josh said he wanted to sell his old car," said Adams, who'd raced to E3 Spark Plugs Texas State honors and 11th place in national Stock Car standings last year. "Everything is quicker in a Modified but I've enjoyed it and I'll run the same car (a 2016 CAM Chassis) next year."
From Haslet, Texas, Adams won his first Modified start at 281 on Feb. 8, returned to victory lane at Stephenville in June and ended the season as track champion.
"281 is close to home and a good place to get seat time," Adams said. "I knew the car would be good. I was just hoping to finish on the lead lap. I was lucky to win that first one."
McGaha and Matt Guillaume lent their expertise in helping Adams learn the nuances of the new division. The fast learner scored that big win at Abilene on July 20.
"I went to Abilene because Josh raced there and I could get help from him when I needed it," Adams said. "I was more than satisfied with how my season went. To win at Abilene and beat Josh was definitely the highlight of the year and definitely not expected."
Adams also traveled to Kennedale Speedway Park, Heart O' Texas Speedway, Southern Oklahoma Speedway and Boyd Raceway during his rookie campaign.
Starts 35            Wins 3          Additional Top Five's 8
HIS CREW: Josh McGaha and Jay Grimes.
HIS SPONSORS: Danny Brown and Tanglewood of Goldsmith; and Fully Involved Motorsports of Haslet.