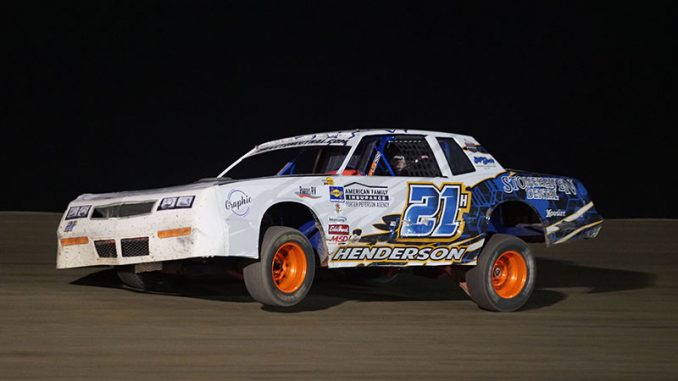 DRAPER, Utah – Being the only repeat winner and staying consistent made Ed Henderson champion of the first annual Wild West Tour for IMCA Sunoco Stock Cars.
Being prepared when he got to the track made that title, and Sweetwater Speedway and E3 Spark Plugs Wyoming State crowns, possible.
From Draper, Utah, Henderson won features at Diamond Mountain Speedway and Sweetwater and ran in the top five in six of nine tour starts. His season-long statistics show seven wins in 28 starts, at eight different tracks in six states.
"I like to be ready when I get to the track. I didn't have any DNFs this season and that was a result of time in the shop," said Henderson. "We had decided to follow the tour the second the schedule came out and one of the things I liked best about it was getting to race at tracks I'd never been to before because they didn't run IMCA Stock Cars weekly."
The former pure stock driver is now a three-year veteran of the IMCA division.
"Both my tour wins came in big fields. Look at the names of the drivers at Vernal (on June 28). I'm proud of besting that list," he said. "We ran the season at Sweetwater and winning the (Aug. 30) tour race there was also a bonus."
"The team at Sweetwater Speedway did a fantastic job with the track all season," added Henderson. "They had more side-by-side racing than ever before. It was some of the most fun side-by-side racing I've ever had."
Starts 9             Wins 2          Additional Top Five's 4
HIS CREW: Wife Sarah, son Adam, Jim Kasper, Dillion Lawrence and Devin Mahoney.
HIS SPONSORS: Parris RV of Murray; Stonehaven Dental of Salt Lake City; Porter Anderson and American Family Insurance of Draper; McGee's Stamp and Trophy of Midvale; and Graphic Industries of Sandy.