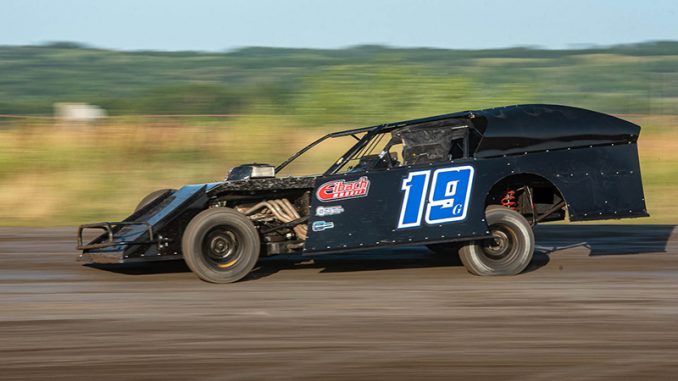 GILMAN, Iowa – The winningest driver in the 10-year history of the Arnold Motor Supply Dirt Knights Tour became its 10th different  champion.
Richie Gustin opened the IMCA Modified tour campaign with three straight feature wins and ended with a single-season record five victories.
"There were a lot of things that worked out for us this year. We weren't planning to run for the tour championship," said Gustin, from Gilman, Iowa. "It had been scheduled to open in Fort Dodge and I didn't know if I'd have been able to make it there that night because of work."
Rain moved opening night to Marshalltown Speedway, however, and Gustin clicked off wins there and the next two events, at Park Jefferson Speedway and at Hancock County Speedway.
"Holding court at Marshalltown, which is my home track, was a big one," Gustin said. "Park Jefferson was probably the coolest. My wife and daughter and I made the trip with the camper. Taylor was excited because she'd never been to South Dakota before and got to cross that off her list."
Gustin helped young Nevada speedster Kollin Hibdon learn the racing ropes. Scott Fitzpatrick helped with getting race cars to the track so Gustin could drive his personal vehicle from work.
His final two tour wins of the season came at Kossuth County Speedway and in the finale at Benton County Speedway.
"Benton County has always been good to me. We went into the night feeling pretty good," Gustin said. "That was another night when my wife and daughter were there. That meant a lot to me."
Gustin now owns 13 career tour wins. His share of the 2019 booty, courtesy of Arnold's, includes a Traeger pellet grill.
"It's a cool deal. I enjoy the tour and going to different tracks," he said. "I enjoyed the format and be­ing able to get three races in the   same week. That was definitely the cool way to do it."                     
Starts 9                    Wins 7                         Additional Top Five's 2
HIS CREW: Wife Holly, daughter Taylor, Chris McDonald and Rick Hurst.
HIS SPONSORS: Scott Fitzpatrick and S & J Motorsports of Wheatland; Halabuilt Competition Engines of Dysart; John Emerson and Emerson Crane of Waterloo; Motorsports Warehouse of Boone; and Eibach Springs of Corona, Calif.