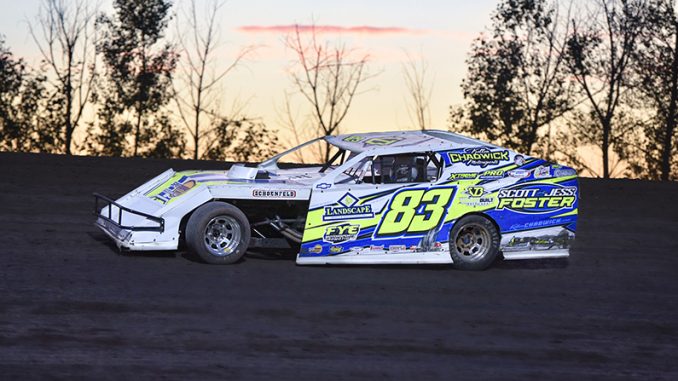 OAKLEY, Calif. – Kellen Chadwick took his family on another June vacation to the Pacific Northwest and came home with a second Wild West IMCA Modified Shootout championship.
Chadwick won two features and was runner-up in another four starts in eight northern California and Oregon tour starts.
"This is kind of a cool event. We get a chance to make some money and race a bunch," said Chadwick, from Oakley, Calif., and also the 2016 tour champ. "I like being able to race for $1,000 to win each night and a point fund share, plus you get a lot of racing in during a week of vacation."
His wins came on night four at Cottage Grove Speedway and in the night eight finale at Willamette Speedway.
"Cottage Grove is one of my favorite tracks for sure," said Chadwick, who also earned one of his four 2016 tour wins at that venue. "We've been there six or seven times and won four or five times. Cottage Grove has been very good to us."
He made another trip north to win Southern Oregon Speedway's R. Charles Snyder Salute, and $5,000, in September.
A broken rear end in first night qualifying sent Chadwick scurrying to buy replacement parts, eventu­ally located and purchased from a local Late Model driver.
He started 14th and finished fifth in his night two 'B' race, then won the 50-lap main event after starting way back in the 21st position.
"That was a pretty awesome weekend for us," he said. "We started out with misfortune but we were able to find another rear end, the guy was nice enough to sell it to us and we turned the weekend around."
Chadwick made the switch to a VanderBuilt Race Car about a fourth of the way through the season and says the car just fits his driving style. He debuted a new ride at Race For Hope 71.
Starts 8                    Wins 2                         Additional Top Five's 5
HIS CREW: Wife Cristina and children Jordan, Jayce, Elizabeth, Kendal and Kolten.
HIS SPONSORS: Kellen Chadwick Motorsports and Scott and Jess Foster, both of Oakley; Extreme Rac­ing Products of Martinez; A & B Landscape of Brentwood; Speedway Motors of Lincoln, Neb.; FYE Motor­sports Promotions of St. Cloud, Minn.; Wehrs Machine and Racing Products of Bangor, Wis.; Fast Shafts of Des Moines, Iowa; Performance Bodies of Cedar Falls, Iowa; and VanderBuilt Race Cars of New Sharon, Iowa.