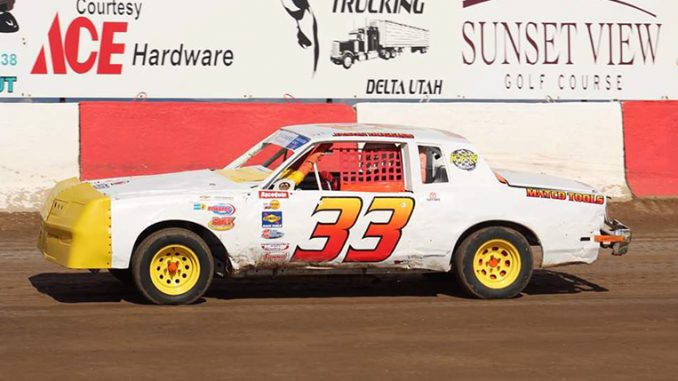 FARMINGTON, N.M. – Gut check time for Jason Duggins came on Aug. 9.
Duggins virtually totaled his IMCA Sunoco Hobby Stock that evening and left Aztec Speedway trying to decide if he'd continue his quest for the Big Daddy Race Cars Southern Region crown.
"It was a challenge. I could give up or I could regroup and come back," he said. "I went home with a bad taste in my mouth but I had some friends help out and ran second the next night in a car that had been beat to crap. It definitely led to good things. I'm glad we kept going."
Those "good things" included eight feature wins – five of them after that wreck at Aztec – another 18 top five finishes, the Fairgrounds Speedway title, the regional crown and 18th place finish in the national point standings.
"I think being in the national top 20 was more of an accomplishment than winning the region," said Duggins, runner-up to fellow Farmington, N.M. driver and chassis builder Dennis Spencer in the 2018 regional race. "We didn't start the season racing for points. We just kept rolling and roll­ing and rolling, and got a lot of great people racing with us. We built up good camaraderie with a lot of drivers."
Along with the track title in Colorado, Duggins was second at home state venue Aztec and fifth in the point race at Millard County Raceway in Utah. He made two visits to Arizona's Canyon Speedway Park as well.
After running half a season in an IMCA Modified in 1999, Duggins has been in and out of the sport competition-wise. He had three wins in his first sanctioned Hobby Stock season last year, piloting a used Grumpy Chassis he'd purchased for $2,000.
"My dad started racing in 1970 so I've been going to the races since I was two weeks old," Dug­gins said. "I know you have to finish a race to be able to win it. My dad taught me that the easiest and fastest way around is not touching somebody."
He's already made plans for an ambitious 2020.
"We got spun out on the last night of the season this year and I came back and won on a dry slick track. That fueled me for winter. We're already trying to make plans to travel to Cocopah in Janu­ary," said Duggins. "I'm usually not ready right out of the gate but we will be next year and see where it takes us."
Starts 29            Wins 8          Additional Top Five's 18
HIS CREW: Brother-in-law Ryan Christensen and brother Bub Hughes.
HIS SPONSORS: Dennis Spencer and Grumpy Chassis, Larry Rust and MATCO Tools, Farm­ers Insurance, Dorsett Racing and Ron Goshorn and Power by Gosh, all of Farmington; and KFR Wraps of Cortez, Colo.