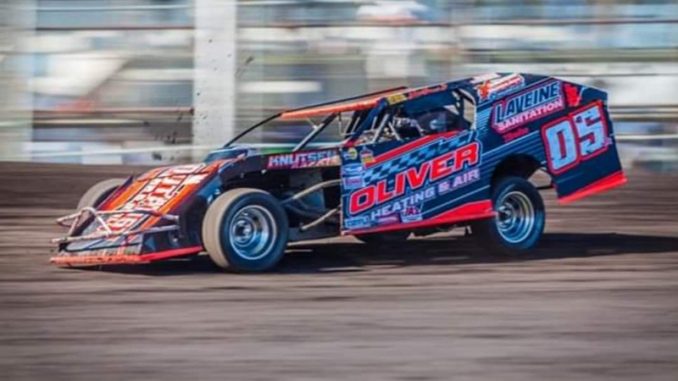 DANVILLE, Iowa – John Oliver Jr. said he'd always wanted to race an IMCA Modified.
He has national and Side Biter Chassis North Central Region rookie of the year awards, as well as the Lee County Speedway track title to show for his 2019 endeavors in the division.
From Danville, Iowa and a long-time IMCA Sunoco Stock Car driver – Oliver was also track champ in the class at 34 Raceway this season – he won six of 35 starts with another 17 top five finishes in pacing first-year drivers nationally and in the region.
"I'd always wanted to race a Modified and I wanted to try for rookie of the year. I liked the speed and the challenge more than anything," said Oliver.
"My first couple nights I did decent but driving a Modified was totally different from a Stock Car," he continued. "I went to Andy Eckrich at Precision Performance and Dennis LaVeine and asked them what to do. The three of us got things figured out while guys like Joel Rust and Hunter Marriott showed me how to be fast."
Oliver's first Modified win came on May 31 at Donnellson and as you'd guess, it was exciting.
"I had hit the wall on the second or third lap and broke an upper 'A' arm. I went to the pits and Andy changed that and a shock," Oliver said. "It was a long yellow so I was able to make it back on the track in time to restart at the rear. I came back and won. It was a really awesome win and it showed me that anything was possible."
He raced both divisions on five occasions this season. Oliver has 77 wins in an IMCA Sunoco Stock Car and will race that division exclusively next season as he resumes the trek to 100 career wins.
Starts 35            Wins 6          Additional Top Five's 17
HIS CREW: Wife Diane, father John Oliver Sr., uncle Jim Oliver Jr. and Dean Kratzer.
HIS SPONSORS: Oliver Heating & Air and Xtreme Impact Graphic, both of Danville; Dennis LaVeine and LaVeine Sanitation of Burlington; Andy Eckrich and Precision performance of Oxford; and Rage Chassis of West Union.