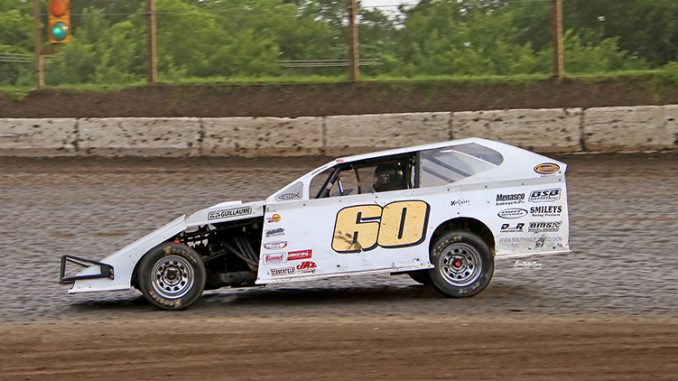 CALERA, Okla. – With titles on the line, William Gould was at his best.
And his best is very, very good.
Gould won his final six, and seven of his last eight IMCA Modified starts of the season in clinching his career fourth Razor Chassis South Central Region crown.
"We didn't do anything different the last month and a half," said Gould, who had struggled with powerplant issues. "We had a string of bad luck with crate engines but when the car ran, everything was fine."
From Calera, Okla., Gould collected 15 feature wins, five of them coming in a dozen open motor outings, along with another 22 top five finishes in 55 starts.
His travels took Gould to 10 different tracks. He already had Southern Oklahoma Speedway and E3 Spark Plus Oklahoma State titles in hand before that late flurry of feature wins, which added the Grayson County Speedway track and ultimately the regional prize to his resume.
"Both Southern Oklahoma and Grayson County are about an hour away from home. If you're going to win the region and have hopes of doing well nationally (he was third) you need to win two track championships and have good car counts," Gould said. "When you find a track that is loyal to the sanctioning body, you need to be loyal to that track. There are a lot of more expensive options if you want to go racing but I'd rather save the money."
He'd won national and regional crowns in 2013, then paced regional points again in 2014 and 2017.
Gould now has 139 wins over the course of his IMCA Modified career, a total that has him in the top 25 all-time for the division.
"Our number and percentage of wins were not outstanding. This was not a Cinderella season for us by any means," said Gould, looking forward to better things in 2020. "The good news is we're still racing."
Starts 55                     Wins 15                         Additional Top Fives 22
HIS CREW: Wife Dana, son David and daughter Daisy.
HIS SPONSORS: Gould Race Cars and Innovative Traction Solutions, both of Calera; D&R Construction, Caney; Bob's Machine Shop, Hulbert; Champs Graphics and T's of Elk City; Smiley's Racing Products of Mesquite, Texas; Guillaume Motorsports of Haslet, Texas; Dirt Defender of Waxahachie, Texas; Mark Herring Race Engines, Plainview, Texas; 4T Concrete Pumping, Whitesborough, Texas; Adams Automotive, Van Alstyne, Texas; Jerry's Bit Service, Decatur, Texas; Speed Shift TV; Hanjack Farms; Carey Menasco; John and Nikki Webb; Dustin Matlock; Steven Lewallen; BSB Manufacturing of Wellington, Kan.; Landrum Springs of Mentone, Ind.; and Pat Fagen and Fast Shafts of Des Moines, Iowa.