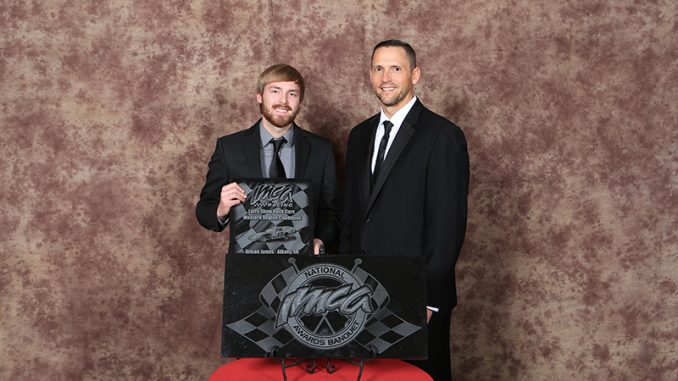 ALBANY, Ore. – Top-flight competition early in the season in sunny Arizona showed Bricen James how much he needed to step up his IMCA Modified game.
The same caliber of competition closer to home in June helped him with the fine tuning that led to a history-making season.
From Albany, James became the first Oregon driver to win an IMCA regional championship, pacing Shaw Race Cars Western point standings.
"We didn't know if it was possible with the number of races we have in Oregon," said James, who made 35 of his 41 starts this season in his home state. "We looked back at last year when we won the E3 Spark Plugs State championship and finished 10th nationally. We told ourselves we could do this and raced as much as we could."
He totaled a dozen feature wins, repeating as the state champion while earning his career first track title at Willamette Speedway.
The 1/3-mile clay oval at Lebanon is James' home track, located a convenient five minutes from home and just 10 minutes from his workplace.
James finished the season with eight wins at that venue and another four at Cottage Grove Speedway, where he was fourth in the points race.
A long-time go-kart competitor, James raced for Jerry Schram and celebrated his 21st birthday late this season, just his third full year in a Modified.
He'd qualified for three of the first five Arizona Modified Tour shows in February before wrecking his 2017 Rage Chassis in the Feb. 15 event at USA Raceway.
"The competition in Arizona made us realize we had to get better," James said. "We got a new car (a 2019 Rage) and it took us a little while to get used to it, but we learned from the guys who came to town for Speed Week (the Wild West Shootout) and things took off."
James had three top five finishes during the Shootout, then promptly won nine of his next 12 starts.
"We had a blast after Speed Week. We were so consistent. Everything went so well and we had a lot of fun," he said.
His $2,600 checkers at Cottage Grove Speedway's Aug. 24 Mark Howard Memorial made for a career best payday and put James on the 2020 Fast Shafts All-Star Invitational ballot.
Starts 41            Wins 12         Additional Top Five's 18
HIS CREW: Father Charlie, Todd Miller and Patrick Held.
HIS SPONSORS: Schram Excavating of Vancouver, Wash; James Gang Pizza and Crockers Cars, both of Lebanon; AM-1 Roofing of Redmond; JK Pickle Trucking of Sisters; and Go Plumbing and Heating of Stayton.