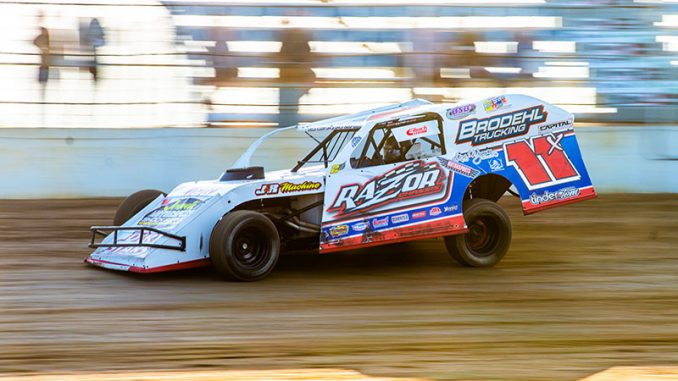 NEWBURG, N.D. – Tom Berry Jr. was turning heads in his adopted state of North Dakota before he won the Kupper Chevrolet Dakota Classic Tour.
He never slowed down.
Berry, an Oregon transplant now from Newburg, motored to his career first Side Biter Chassis North Central Region crown. The Dacotah Speedway and Nodak Speedway track champion racked up a dozen wins and another 18 top five finishes in 37 starts on the way to national IMCA Modified runner-up honors.
"It's been wild. We didn't target any of this. We got a new Razor Chassis and started getting more wins," Berry said. "We usually ran twice a week, never missed a weekend and always ran with stout fields. We'll run hard next season. I hope to click out quick and run three nights a week."
The opening night winner at Jamestown Speedway, Berry had two second-place finishes along with a fifth place showing running with top flight competition in the Dakota Tour.
He was also second across the stripe in three straight Speedweek starts, at the Harris Clash, in the Arnold Motor Supply Dirt Knights Tour at Fairmont and at Night of 1,000 Stars before topping the big Night of 10,000 Stars show at Hancock County Speedway.
"We had a good pill draw three nights in a row in the tour and won our heats. That boosted our confidence. I felt like every time we unloaded we had the car to beat," said Berry. "I've followed the tour for four years and winning it was great but if I had to pick out a highlight it would probably be Night of 10,000 Stars. I feel if you win in Iowa you have a bad fast hotrod."
He was bad fast in top six outings at three September events, the Fast Shafts All-Star Invitational, the IMCA Speedway Motors Super Nationals fueled by Casey's and Race For Hope 71.
"This season went by so fast. It's been hard to soak it all in," Berry admitted. "I still want to be better and I think I can be better."
Starts 37            Wins 12         Additional Top Five's 18
HIS CREW: Girlfriend Mayce Brodehl, Brian Brodehl and Colby Reid.
HIS SPONSORS: Brodehl Trucking of Newburg; Hefty Seed of Mohall; Farden Construction of Maxbass; Muller Scrap of Surrey; Quick Rescue Roofs of Minot; Lexi Wyman Music of Westhope; Oak Grove Storage of Medford, Ore.; Razor Chassis of Platte Center, Neb.; Fast Shafts of Des Moines, Iowa; Jerovetz Motorsports Shock Service of Suamico, Wis.; Wehrs Machine and Racing Products of Bangor, Wis.; AFCO of Boonville, Ind.; Eibach Springs of Corona, Calif.; Dirt Defender of Waxahachie, Texas; Dirt Star Racing Products of Taylor Ridge, Ill.; Precision Hydraulic and Oil of Wrightstown, N.J.; and William Painter of San Diego, Calif.