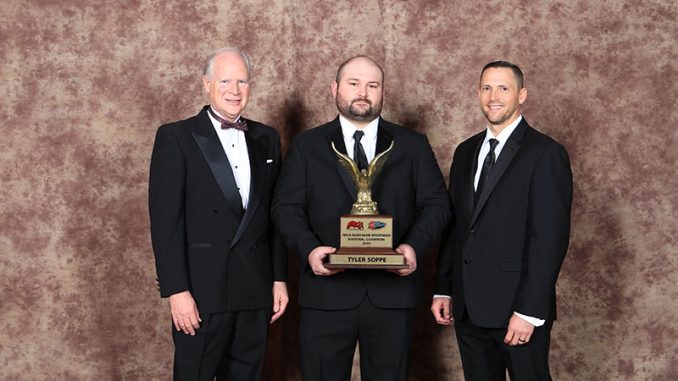 SHERRILL, Iowa – Racing, says Tyler Soppe, is one of those sports where you never know what's going to happen.
A lot happened for the Sherrill, Iowa, speedster in 2019 and almost all of it was good.
Soppe motored to a career second Karl Kustoms Northern SportMod national championship, along with 21 feature wins and track titles at Maquoketa Speedway and Dubuque Speedway.
"This one (the national championship) was better. When we won it the first time in 2017, all we were doing was chasing points and that took the fun out of it," he said. "My daughter Tayler was eight years old then and told me I had to win again so she could go to the banquet."
"This year we just went out and raced. We knew if we won races that it would work out," Soppe added. "We knew going into the last two weekends that it would be super close but we were able to replace some third-place finishes."

Soppe was spot on when he guesstimated the national championship race would tilt his way by a margin of four points.
His 49 starts this season took him to a dozen different tracks. He won 13 of 16 outings at bonus point-rich Maquoketa, another five times at Dubuque, twice at Davenport Speedway and once at Quad City Speedway.
"It was tough to make it anywhere regularly on Friday because of work," he said. "Maquoketa always had a ton of cars on Saturdays and that's a track we just have figured out. There were only three races there this year that we didn't win and I ran fourth in a borrowed car one of those nights. I love that place. I've told everyone they should move Super Nationals there."
Fittingly, his career 100th win in the division came on season championship night at Maquoketa.
"That was pretty cool," said Soppe, just the seventh Northern SportMod driver to reach triple digit wins. "My dad wasn't able to see a lot of my races this year but he was there that night."
Soppe won't chase points in 2020. He's planning to travel more to special events in a more laidback campaign.
"I would like to race bigger shows and go to some different tracks. I'd also like to go back to Britt," said Soppe, who managed just a single visit to Hancock County Speedway this season. "Another thing we'd like to do is go to Deer Creek for the Harris Clash."
A fire in the hauler – one of the few low points of Soppe's season – did not result in extensive damage but still prevented him from completing the trip to compete at this year's Clash.
Starts 49            Wins 21         Additional Top Five's 18
HIS CREW: Brother Dalton and Tyler Zierden.
HIS SPONSORS: Dubuque Mulch and Merfeld Borthers Automotive, both of Dubuque; Durango Depot of Durango; Wagner Nursery of Asbury; Eichmann's Bar & Grill of Sargeville; TDS Welding of Sherrill; RLC Communications of Cascade; Bob Harris Custom Suspension of Ames; Harris Auto Racing and Motorsports Warehouse, both of Boone; Karl Kustoms and Dynamic Drivelines, both of Des Moines; Edge by Most of Red Oak; Out-Pace Racing Products of Freeport, Ill.; Orion Tire Repair of Orion, Ill.; Wehrs Machine and Racing Products of Bangor, Wis.; Eibach Springs of Corona, Calif.; Obert Construction; and Superior Steering Wheel of Mission, Texas.