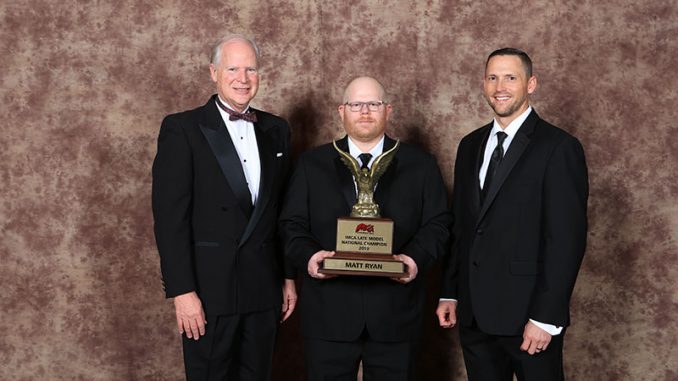 DAVENPORT, Iowa – The proudest moment in a lifetime of racing came when Matt Ryan called his father Terry to share the news that he'd won his first IMCA Late Model national championship.
A 20-year veteran of the division and runner-up each of the last two and three of the last four seasons, the Davenport, Iowa, driver earned that title share on the strength of nine feature wins and another 18 top five finishes in his 29 IMCA Speedway Motors Weekly Racing starts.
"The amount of joy I was overcome with was just crazy. I have gotten so close and come up short so many times. I was elated to finally win it," Ryan said. "My dad was really nervous. To call him after it was official was probably the proudest moment of my life."
Terry Ryan had crewed for Rollie Frink before starting his own IMCA Late Model career. Matt tagged along, racing go-karts all across the country before wheeling a Late Model almost exclusively at 34 Raceway for most of 10 years.
He branched out after his father hung up his helmet and now owns career totals of 57 feature wins, 11 track titles and four E3 Spark Plugs State championships.
Six of Ryan's nine feature wins this season came at favorite venue Quad City Speedway in Moline, Ill. He won twice at 34, once at Davenport Speedway and collected track championships at each while topping the Quad City show and finishing third in Deery Brothers Summer Series standings.
Ryan has now won three track titles in the same season three times; he also became a three-time Illinois state champion this year.
"The way this season went down was like last year. It was like déjà vu, coming down to the last weekend. I had been leading (national points) and Cory (Dumpert) came over to Maquoketa and a lapped car spun me out," he said. "Then we went to Moline on Sunday and won. It was probably the greatest feeling I've had after a race. This year the cookie crumbled the right way."
"Crew chief Jake Fier and I have been best friends since we were born," he added. "We have figured out a lot of stuff for ourselves. I trust him with the setup and I worry about the driving." 
An art teacher for grades K-8 at John F. Kennedy Catholic School in Davenport, Ryan is a fabricator and car builder for multi-time national champion Justin Kay at S & J Race Cars in Wheatland during the summer.
"My wife Molly and I have three girls (Delilah is 12, Alyse 7 and Emerson 2) so it definitely gets challenging during the summer, balancing family with working and racing three nights a week," he said. "I go to work at 7, get home by 6, eat dinner with my family and by 7 I head to the shop. I'm there until 11 or 11:30, come in and go to bed. Molly is amazing. She brings the kids to Davenport on Friday and to Maquoketa on Saturday or Moline on Sunday so they get to see me race."
The car and the competition are what he likes best about the class.
"I realize now it's not all about winning. It's about the competition and the guys I race with," Ryan said. "I've driven other cars and in other classes but nothing else compares to a Late Model. I know all the guys who race in this division and there's a lot of camaraderie. I enjoy the friendships and the thrill of driving."
Starts 29                   Wins 9                Additional Top Five's 18
HIS CREW: Jake Fier, wife Molly and parents Terry and Sheila Ryan.
HIS SPONSORS: American Family Insurance/Jared Bennett Agency, Muscatine; Sampson Fence Ltd., Ruhl and Ruhl Realty/Lacey Welsh Daedlow, The Filling Station, Hickory Gardens, Davenport Performance and TSR Racing, all of Davenport; S & J Race Cars of Wheatland; Performance Bodies of Cedar Falls; Dynamic Drivelines of Des Moines; and The Outhouse of Blue Grass.