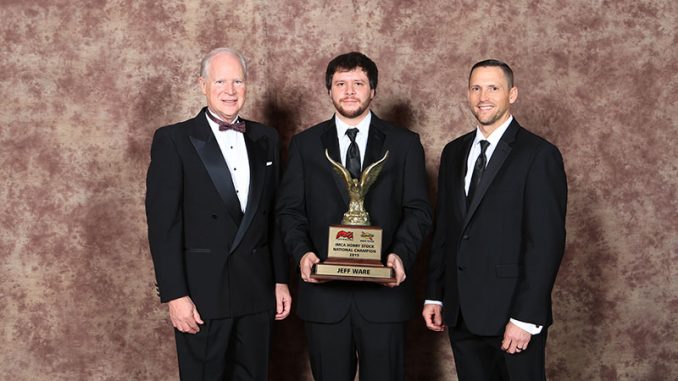 COLUMBUS, Neb. – By mid-July, Jeff Ware knew the 2019 IMCA Speedway Motors Weekly Racing season had the potential to be a special one.
He just had no way of knowing how special.
Boosted by a fast start and armed with an attention to maintenance, Ware won 29 features in becoming the first Nebraska driver to win the IMCA Sunoco Hobby Stock national championship.
The veteran from Columbus collected the Big Daddy Race Cars Northern Region crown, track titles at Boone County Raceway, Dawson County Raceway, Eagle Raceway and U.S. 30 Speedway, and the E3 Spark Plugs Nebraska State prize as well.
"We'd won nine in a row at Eagle, three in a row at Albion and our first two starts at Columbus. That's about when we decided to start digging in and going as hard as we could," said Ware. "Winning the national championship is huge. It's one of the things my buddies and I have always talked about. It's cool now to be included in the conversation of drivers who have done it."
Ware's total of 29 checkers include 13 in 17 Eagle starts, seven at U.S. 30, five at Boone County and three at Dawson County. His final win came at Salina Speedway's Mid-America Clash.
"It's hard to pick a favorite track," he said. "We had the most wins at Eagle and it's not like we got the lead on lap seven every night. There were several nights when we won with last lap, last turn passes. And U.S. 30 is a driver's track. They do such a good job with track prep that it's all up to the guy behind the wheel."
Also among his 2019 statistics were another 22 top-five finishes and just two DNFs in 55 starts.
"Maintenance was very important. We were running three or four nights a week at one point and replaced everything on the car halfway through," he said. "There are a lot of little things you can't see and you can't win if the car doesn't finish. That's 90 percent of it."
Luck of the draw also plays a part, and Ware pointed out that 2019 was good to him. 
"We drew two at Salina and one and three for the two nights of the Abe Lincoln Memorial," said Ware, a double winner at U.S. 30's Sept. 13-14 special. "We've had good years when we haven't drawn well, but this was 100 percent the season of the draw for us."
Wheeling a Charger Chassis from Day One, he's been in a Hobby Stock for 10 years, finding more success the last four seasons with a new motor program.
Like so many of his Cornhusker State cohorts, Ware grew up racing go-karts and began honing his driving skills against the likes of Cory Dumpert and his brother Kyle.
"We were in some pretty big races together. That Cory and I would win national championships (Dumpert doing so in the IMCA Late Models) the same year is pretty neat," he said.
Starts 55                Wins 29              Additional Top Five's 22
HIS CREW: Father Mark O'Brien, Shane Crumley, Austin Brauner, Damon Richards and Jamie Richards.
HIS SPONSORS: T & R Repair of Genoa; Dewine Mechanical, Vince and Madison, Shane's Repair, Hein Auto Body, Avenue Bar and Roth Racing, all of Columbus; Amy and Gary of Tomorah; Charger Chassis and Demon Decals, both of Rising City; BG of Nebraska; CPD Shocks of Fort Dodge, Iowa; Shane Dewine; and parents Mark and Kim.