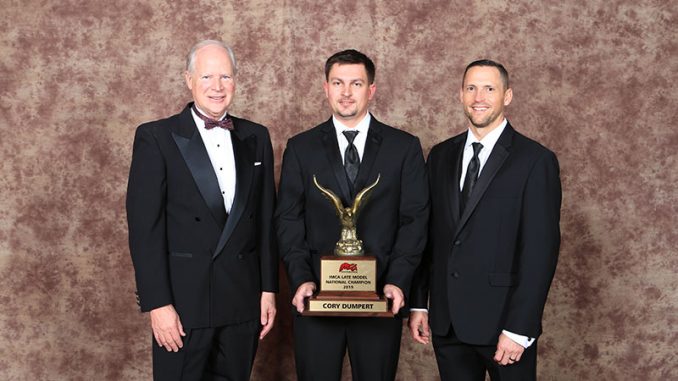 YORK, Neb. – New IMCA Late Model sanctions close to home meant new opportunities this season for Cory Dumpert.
The York, Neb., driver found success on the road as well in 2019, and earned both national championship and rookie of the year honors as a result.
Dumpert won nine of 22 starts in becoming the first driver in division history to achieve those feats in the same season.
"We had started traveling last year and were successful in Kansas. We talked about racing IMCA this year because it was right in our back yard. It definitely turned out better than we expected and it means a lot to us to have accomplished what we did," said Dumpert, also the track champion at Boone County Raceway and Junction Motor Speedway, and the top driver in E3 Spark Plugs Nebraska State standings.
"We raced to have fun. We weren't really trying for the national deal until there was about a month to go in the season," he added. "Then we looked at the points and thought 'Holy cow, we might have a chance.'"
Dumpert won four times at Boone County and five times at Junction, venues that rank among his favorites, along with U.S. 30 Speedway in Columbus because of their respective configurations and predictably well prepared racing surfaces.
He won at both Albion and McCool Junction on the final weekend and finished outside the top five just twice all season. Dumpert ventured east to battle his Iowa competition four nights on their home tracks, running second at Marshalltown and Davenport, then posting third and fourth-place finishes later in the season at Dubuque and Maquoketa.
"Picking a highlight of the season is tough," Dumpert said, before settling on the weekend that took him to Marshalltown and Davenport. "I made the trip with my girlfriend for the first time, started 18th (at Marshalltown) and finished second. That was the most fun I had in a race all year."
"I want to race with 20 other cars. I like the challenge. That's the fun part," he continued. "I got second the next night racing against a lot of good drivers. That was my favorite weekend of the season. We raced the best of the best and came out decent."
Video sharing platform YouTube helped Dumpert prepare for first-ever outings at all four Iowa speedplants.
"I thought we were pretty successful for never having been to any of those tracks before," he said. "We did a bunch of YouTubing on the way there. You can learn who's who, what's what and how the track goes."
He'll bring first-hand experience with him when he returns in 2020.
"Next year the plan is to do Thursday-Saturday and Friday-Sunday swings in Iowa and race with that good competition over there," he said. "We're gearing up to make racing in Iowa a more frequent thing."
Dumpert had started racing go-karts, working his way up to hobby stocks and street stocks before moving into a Late Model in 2012.
He's the third Nebraska driver to win the national IMCA Late Model title, following Kyle Berck (1996) and Jason Friesen (2000) to the top of the podium.
Dumpert was a fan of Friesen during his racing career and credits Berck with getting him into a Swartz Chassis.
Starts 22                   Wins 9                Additional Top Five's 11
HIS CREW: Parents Cary and Debbie, brother Kyle, girlfriend Lindsey Roan, Kevin Safranek, Adam Fowler, Evan McIntyre and Edward Pritchard.
HIS SPONSORS: Safranek Racing of Merna; Donrich Machine and Driveline of McCool Junction; Extreme Automotive of York; Audie with Swartz Race Cars, Minford, Ohio; Trotter Fertilizer, Trotter's Tire Pro, Arrow Aviation and LB Thoroughly, all of Broken Bow; Doran Post and Associates Inc. of Lexington; Progressive Fertilizer of Callaway; LG Pumping LLC of Osmond; Spanel Engines of Lincoln; ACG Ag Consulting Group; Channel; DeKalb Hybrids; and BSB Manufacturing of Wellington, Kan.