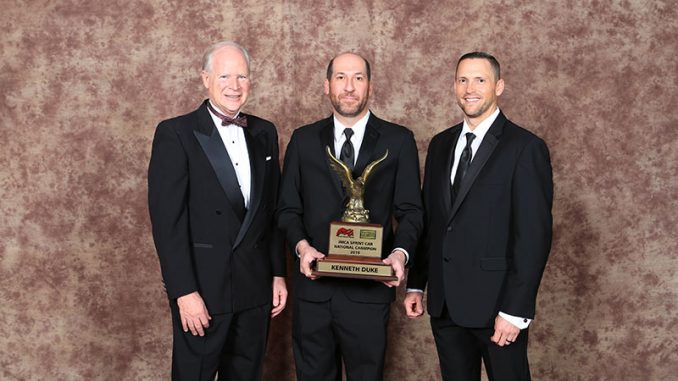 SELINSGROVE, Pa. – A Duke was king of the IMCA RaceSaver Sprint Car division this season.
Ken Duke Jr. of Selinsgrove became the first driver from Pennsylvania to win a national champion­ship in any sanctioned division, topping standings for the winged class in his fifth IMCA season.
"It's kind of unbelievable. It's an honor for sure, with as much racing as goes on and with how many dirt tracks we have here," he said. "Winning the national championship hasn't sunk in yet. Maybe it will when we get out to the banquet. I know what we've done and how hard we worked, but it's still a little hard to believe. It's pretty amazing."
Duke collected 10 feature victories in all, eight of them in Pennsylvania Sprint Series action.
He won that series crown for the second time in four years while earning his career-first E3 Spark Plugs Pennsylvania State title.
"A lot of the races we ran have 'B' mains and a lot of guys don't qualify for the feature," said Duke, not­ing the series averaged better than 28 cars a night over the course of its 2019 run. "I think the competition in Pennsylvania is about as good as it gets."
Duke has been about as consistent as a driver can get, finishing in the top 20 nationally in each of his five IMCA campaigns. Eighth last season, he took over the point lead for good in late July and was one of seven Keystone State speedsters in this year's top 20.
"Knowing how the national point deal worked, we wanted to finish in the top three 20 times," said Duke. "We went to PRI in December to figure out how to get better, prepared accordingly and got a great start, winning our first two and three out of our first four races."
Duke and Colorado pilot Jake Bubak shared the division lead in feature wins. Duke had another 13 top-five finishes.
Two of his three checkered flag runs at Clinton County Motor Speedway came in Laurel High­lands Sprint Series outings. Duke also collected two wins each at hometown Selinsgrove Speed­way, Path Valley Speedway and Port Royal Speedway, and won once at BAPS Motor Speedway.
"Winning at Selinsgrove was the highlight of the season," he said. "That's where I was born and raised. I'd never won there before, but I won two of the four races there this year."
Now in his 24th season on the track, Duke raced go-karts and then microsprints before making his home in the RaceSaver class.
"We've been in the top 20 every year we've raced IMCA. Up until this year, I didn't know if a na­tional championship was feasible," said Duke. "We went after it 100 percent and got it done."
Starts 34 Wins 10 Additional Top Five's 12
HIS CREW: Parents Ken Sr. and Sandy Duke, Brian Snyder, Mark Hackett, Darrell Troxell and girlfriend Donna Reigle.
HIS SPONSORS: Fairfield Chevrolet and Susquehanna Valley Auto Glass, both of Lewisburg; Bud Godek Auto Body, Apache Tree Service and Tom Tice Powder Coating, all of Middleburg; SprintCarUnlimited.com; Fred Keller; and Seth's Racing Engines, Beaver Springs.