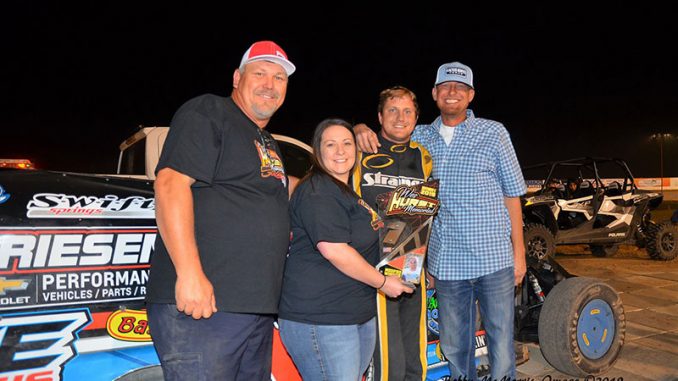 By Jackson Braun
SOMERTON, Ariz. (Nov. 8-9) – After being on hiatus since 2012, the Wes Hurst Memorial returned in a big fashion over the weekend with the IMCA Modifieds at the Cocopah Speedway.

The IMCA Modifieds had a highly competitive field both nights of action. 35 IMCA Modifieds checked in on Friday night, while 31 filled the pits on Saturday.
Jason Beaulieu led the field to green on Friday night and got the jump on the field. The 30-lap main event was a contest from start to finish, as no racer ran away from the field. Beaulieu faced pressure from Jake O'Neil and Hunter Marriott in the early portion of the race.

O'Neil did end up passing Beaulieu, but a broken left front combined with a caution slowing down the field spelled the end of the race for O'Neil. Marriott inherited the lead but Jesse Sobbing got a run and found himself in contention for the win.
Marriott analyzed Sobbing's run around the race track and used the weaknesses to his advantage, getting back around him and holding off the driver of the 99 machine to grab the $2,000 check and Fast Shafts All-Star Invitational ballot berth.
Saturday night's main event found Marriott on the outside pole position to begin the contest. Marriott got the advantage over polesitter Kenny Wallace, taking the lead early.
The only thing that stopped Marriott was a few caution flags sprinkled in the 40-lap contest, where Tom Berry Jr. would take his shot at the top spot. Berry would not be able to put enough of a run together to beat Marriott for the $3,000 check.
Marriott picked up a $500 bonus for sweeping the weekend.
In the Karl Kustoms Northern SportMods, Yuma's Miles Morris grabbed the win on Friday and Sioux City, Iowa's Cody Thompson reached victory lane on Saturday.
In the IMCA Sunoco Hobby Stocks, Adel, Iowa's Miciah Hidlebaugh swept the weekend. It did not come easy for the 19-year-old pilot, however, as Nathan DeRagon almost took a Scott Tenney-borrowed machine to victory lane on Saturday.
Nov. 8 Feature Results
Modifieds – 1. Hunter Marriott; 2. Jesse Sobbing; 3. R.C. Whitwell; 4. Tom Berry Jr.; 5. Jason Beaulieu; 6. Kyle Brown; 7. Lance Mari; 8. Austin Arneson; 9. William Gould; 10. Zachary Madrid; 11. Mark Carrell; 12. Chaz Baca; 13. Kenny Wallace; 14. Eric Evans; 15. Trevor Miller; 16. Braxton Yeager; 17. Duane Rogers; 18. Don Earven; 19. Austin Kiefer; 20. Jake O'Neil; 21. Jeff Taylor; 22. Steven Daffern; 23. Alex Stanford; 24. Tyson Evans.
Hobby Stocks – 1. Miciah Hidlebaugh; 2. Jason Beshears; 3. Jason Penny; 4. Cody Ashcraft; 5. Brandon Schilling; 6. Mike Lerwill; 7. Michael Whissen; 8. Rick Hibbard; 9. Brandon Painter; 10. Kenzie Olsen; 11. Lyle Driscoll; 12. Brian Johnson; 13. Scott Tenney; 14. Nathan DeRagon; 15. Jim Robinson; 16. Justin Brierly; 17. Tomi Duarte; 18. Trevor Hidalgo; 19. Joshua Cordova.
Northern SportMods – 1. Miles Morris; 2. Bo Partain; 3. Manny Baldiviez; 4. Ty Rogers; 5. Chris Toth; 6. Jimmy Davy; 7. Mark Harrison; 8. Shelby Frye; 9. Javier Navarro; 10. Ron Pegues; 11. Blake Rogers; 12. David Jones; 13. Allen Webb; 14. Cody Thompson; 15. Marcos Bojorquez.
Nov. 9 Feature Results
Modifieds – 1. Marriott; 2. Berry; 3. O'Neil; 4. Baca; 5. Arneson; 6. Brown; 7. Beaulieu; 8. Yeager; 9. Stanford; 10. Taylor; 11. Madrid; 12. John Parmeley; 13. Trevor Miller; 14. Cole Dick; 15. Wallace; 16. Evans; 17. Kiefer; 18. Sobbing; 19. Eric Center; 20. Mari; 21. Bill Miller; 22. Whitwell; 23. Kent Rosevear; 24. Gould.
Hobby Stocks – 1. Hidlebaugh; 2. DeRagon; 3. Johnson; 4. Ashcraft; 5. Beshears; 6. Tenney; 7. Whissen; 8. Hibbard; 9. Olsen; 10. Penny; 11. Duarte; 12. Lenna Miller.
Northern SportMods – 1. Thompson; 2. Baldiviez; 3. Ty Rogers; 4. Toth; 5. Jonathan Jensen; 6. Frye; 7. Morris; 8. Rogers; 9. Joshua Cordova; 10. Brian Baker; 11. Jones; 12. Davy; 13. Navarro; 14. Webb; 15. Pegues; 16. Dan Westbrook.