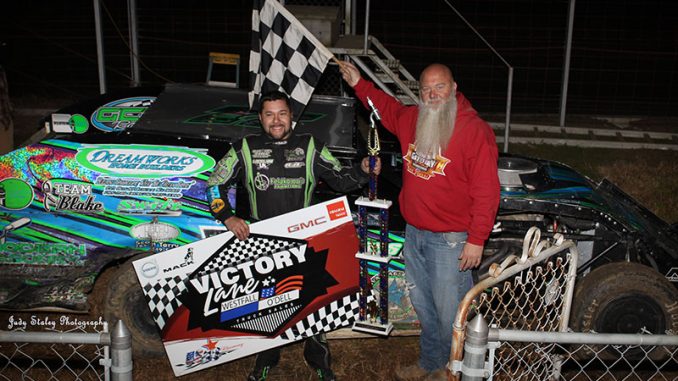 By Jacob Blair
OSBORN, Mo. (Oct. 26) – A full pit area checked in for the first ever Missouri IMCA Nationals at US 36 Raceway.
The IMCA Modified main saw Jesse Dennis and Kyle Olberding battle for the lead early. Quickly though, Steven Bowers Jr. and Chad Clancy moved by and started battling for the lead. For the first half of the race, the two searched the track for a line and while doing so swapped the lead several times.
After halfway, Bowers found the right line and dominated the rest of the way, picking up the first-ever Missouri IMCA Nationals Modified win and the big trophy in Westfall GMC Victory Lane. The victory was good for $1,200; Bowers was already on the Fast Shafts All-Star Invitational ballot.
Clancy finished second while Shayne Bailey started 16th and drove through the field for a third-place finish. Adam Kates and Jaylen Wettengel charged from 12th and 15, respectively, to round out the top five.
In the IMCA RaceSaver Sprint Car feature, Toby Chapman paced the field early before Jason Martin found his way around. Once out front, Martin showed he was the class of the field and picked up the $1,200 win.
Stu Snyder patiently worked his way to finish second after starting seventh. Chapman finished third, with Nathan Weiler fourth and polesitter Kenny Potter fifth.
The IMCA Sunoco Stock Cars put on the best battle of the night as J.J. Baumli and Chad Clancy went back and forth all race long. Either driver could only lead a few laps before the other would storm back by.
With Clancy out front, a caution flew on the final lap and set up a green, white, checkered finish. Clancy got a good restart and crossed the line first but was disqualified in post-race tech for a rev limiter chip infraction and Baumli got the $1,000 win. Mich Ross finished second, with Bryan Rigsby third after starting 13th. Brian Labonte and C.J. Turner finished out the top five.
Chad Shaw paced the first half of the Karl Kustoms Northern SportModrace. Matt Andrews worked his way to the back bumper of Shaw but both were running the same line and Andrews couldn't move by.
Shaw slipped up off turn two and Andrews took control of the race and drove away. Shaw regrouped and tracked Andrews back down but ran out of laps and Andrews earned the $800 win. Shaw finished second with Chris Wright third. Coleman Browning and Jeremy Pittsenbarger made up the final spots in the top five.
Feature Results
Modifieds – 1. Steven Bowers Jr.; 2. Chad Clancy; 3. Shayne Bailey; 4. Adam Kates; 5. Jaylen Wettengel; 6. Mark Schafman; 7. Michael Dotson; 8. Jacob Brock; 9. Nick Hermsen; 10. Tony Hardisty; 11. Mike Densberger; 12. Sean Barragan; 13. Jesse Dennis; 14. Issac Dotson; 15. Eddie Ingram; 16. Kale Smith; 17. Kyle Olberding; 18. Doug Heimbaugh; 19. Dustin Miller; 20. David Coates; 21. Scott Smith; 22. Jim Masoner Jr.
Sprint Cars – 1. Jason Martin; 2. Stu Snyder; 3. Toby Chapman; 4. Nathan Weiler; 5. Kenny Potter; 6. Jack Potter; 7. Buddy Tubbs; 8. Jake Greenwood; 9. 77-Jason Miller; 10. Jordan Miller; 11. Jason Danley; 12. Monty Cook; 13. Austin Couch; 14. Chad Jarrett; 15. Mike Moore.
Stock Cars – 1. J.J. Baumli; 2. Mich Ross; 3. Bryan Rigsby; 4. Brian Labonte; 5. C.J. Turner; 6. Mike Nichols; 7. Jaylen Wettengel; 8. Keith Simmons; 9. Dana Cook; 10. Cade Richards; 11. Daniel King; 12. Matt Smith; 13. David Holcomb; 14. Caleb Pugh; 15. Carson Masoner; 16. Shane Schmidt; 17. Connor Masoner; 18. Dan Jackson; 19. Steve Starmer; 20. Brad Labonte; 21. Shadren Turner.
Northern SportMods – 1. Matt Andrews; 2. Chad Shaw; 3. Chris Wright; 4. Coleman Browning; 5. Jeremy Pittsenbarger; 6. Randy Smith Jr.; 7. Blain Petersen; 8. Randall Bix; 9. Trevor Dunn; 10. Josh Munsen; 11. Josh Everhart; 12. Tristan Phillips; 13. Steven Clancy; 14. Craig Reynolds; 15. Craig Carpenter; 16. Cameron Meyer; 17. Austin Charles; 18. Tim Eaton; 19. Truman Asher; 20. Chase Rudolf.