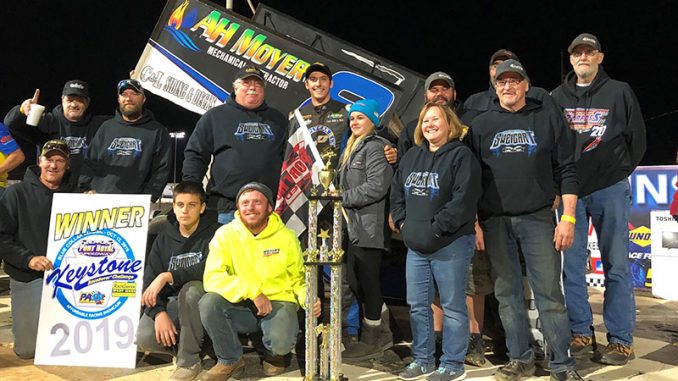 PORT ROYAL, Pa. (Oct. 12) – Nick Sweigart saw an opening on the last lap and seized it, pass­ing both cars battling for the lead and holding on to win the eighth annual Keystone RaceSaver Challenge Saturday night at Port Royal Speedway.
Sweigart, who had started 10th in the Blue Collar Classic for IMCA RaceSaver Sprint Cars, had fought his way to third place when Doug Dodson, running second, dove to the inside of leader Zach Newlin in turn two of the 25th and final lap, and Newlin came down to try for a crossover to regain first.
Sweigart fired his ride into the narrow space outside of Dodson and went by both cars. Newlin got to the inside in turns three and four, but Sweigart's outside momentum and perfect line enabled him to take the checkered flag.
Newlin finished second while Dodson took third.
"It all just kind of played out there in that last lap," Sweigart said from victory lane. "Those two guys were in a helluva race the entire race, and it's just racing, they were trying their best, and I was sitting back there in third, could see what I needed to do and it all worked out."
"I knew we were right there and we just needed something to go our way, and that's all we needed," he continued. "I definitely had the car, the crew had it hooked up and it all panned out."
Immediately behind the lead trio and looking for an opening while engaging in their own battle for position were super rookie Garrett Bard and New Yorker Christian Rumsey. They had charged to the front from ninth and 11th place, respectively.
Newly crowned national champion Ken Duke Jr. finished sixth after starting 21st.
With 50 cars from six states in the pits for this year's race, the annual Founders Cup race for non-qualifiers also was good one, with the race's defending winner Kassidy Kreitz providing an ending that all but equaled that of the feature.
Pole-sitter Drew Ritchey raced out to a nearly two second lead in the 15-lap event, only to have third-starting Kreitz reel him in over the final five laps. On the final lap, the two leaders needed to lap a slower car, and when Ritchey went high, Kreitz dove low and came out ahead on the final run down the straightaway.
The margin of victory was two hundredth's of a second.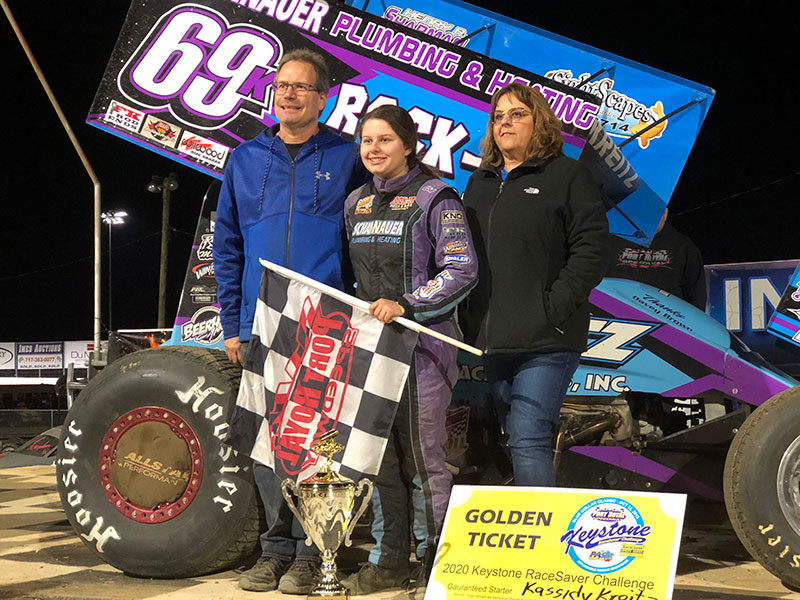 "I really wasn't sure," Kreitz said in victory lane. "I knew it was going to be close, but I think that lap car held him up and it definitely helped me there."
Following Kreitz and Ritchey across the line were Jay Krout, Ohio's Justin Clark and Wally Eshenaur.
Feature results – 1. Nick Sweigart; 2. Zach Newlin; 3. Doug Dodson; 4. Garrett Bard; 5. Chris­tian Rumsey; 6. Ken Duke Jr.; 7. Devin Adams; 8. Kevin Nagy; 9. Jeff Geiges; 10. Jaremi Han­son; 11. Ian Cumens; 12. Kenny Heffner; 13. Jonathan Jones; 14. Erin Statler; 15. Dylan Proctor; 16. Jon Haegele; 17. Tim Tanner; 18. Brad Mellott; 19. Scott Frack; 20. Domenic Melair; 21. Kruz Kepner; 22. Ryan Lynn; 23. Larry McVay; 24. Kyle Keen.
Founders Cup results – 1. Kassidy Kreitz; 2. Drew Ritchey; 3. Jay Krout; 4. Justin Clark; 5. Wally Eshenaur; 6. Mike Alleman; 7. Nathan Gramley; 8. Jared Zionkowski; 9. John Fiore; 10. Derek Hauck; 11. Will Brunson; 12. Dave Guss; 13. Fred Arnold; 14. Daren Bolac; 15. Chase Me­theney; 16. Cassandra Minium; 17. Jimmy White; 18. Matt Kline; 19. Dave Graber; 20. Tylor Cochran.