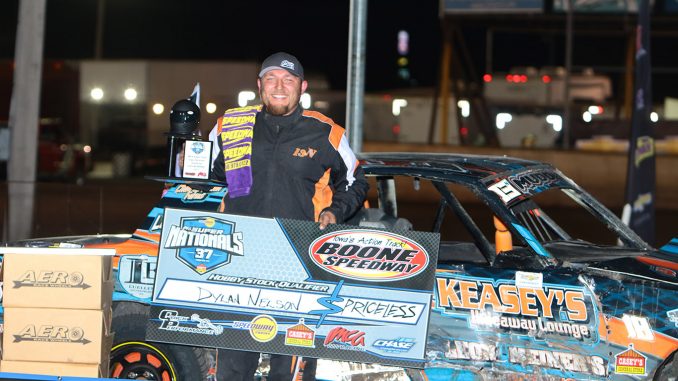 BOONE, Iowa (Sept. 3) – A long run at the front in his Tuesday night qualifier put Dylan Nelson on the front row for Saturday's Hobby Stock main event at the IMCA Speedway Motors Super Nationals fueled by Casey's.
The Adel speedster caught Tim Gonska for the point on the third circuit and weathered a handful of restarts before taking the checkers at the end of the 25-lapper at Boone Speedway.
The last 11 laps ran caution-free. Reading, Minn.'s Justin Luinenburg settled into second on lap 20 but could never mount a challenge to the leader.
Lining up behind Nelson and Luinenburg on the outside row of Saturday's Big Dance will be fellow Great Eight finishers Sal Hernandez of Columbus, Neb., Gonska, of Brainerd, Minn., John Watson of Des Moines, hard charger Malik Sampson of Worthington, Minn., and Dawson DeBoer and Blake Arends, both of Little Rock.
Sampson made an incredible run after starting last in the field of 28. Luinenburg had started 11th, Watson 13th and Arends 22nd.
Watson qualified for the Saturday show for the ninth time, Hernandez and Sampson both for the fourth, DeBoer for the second and Nelson, Luinenburg, Gonska and Arends each for the first.
Last-chance qualifying on Wednesday adds the final six car to Saturday's main event grid.
Qualifying feature results – 1. Dylan Nelson, Adel; 2. Justin Luinenburg, Reading, Minn.; 3. Sal Hernandez, Columbus, Neb.; 4. Tim Gonska, Brainerd, Minn.; 5. John Watson, Des Moines; 6. Malik Sampson, Worthington, Minn.; 7. Dawson DeBoer, Little Rock; 8. Blake Arends, Little Rock; 9. Cody Stone, Hobbs, N.M.; 10. Brady Larkins, Deshler, Neb.; 11. Dillon Richards, Beatrice, Neb.; 12. Greg Sidles, Fairmont, Minn.; 13. David Simpson, Des Moines; 14. Darin Johnson, Dickens; 15. Seth Janssen, Ogden; 16. Matt Brown, Dysart; 17. Jamie Coady, Colfax; 18. Bryan Johnson, Graettinger; 19. Brett Vanous, Quasqueton; 20. Charlie Stevens, Algona; 21. Tyson Overton, Carlisle; 22. Zach Hemmingsen, Marne; 23. Carl Ellis, Pleasantville; 24. Justin Wacha, Vinton; 25. Dustin Thompson, Villisca; 26. Jack Phillips, Mitchellville; 27. Brady Henderson, Curtis, Neb.; 28. John Rebstock, Morton, Minn.