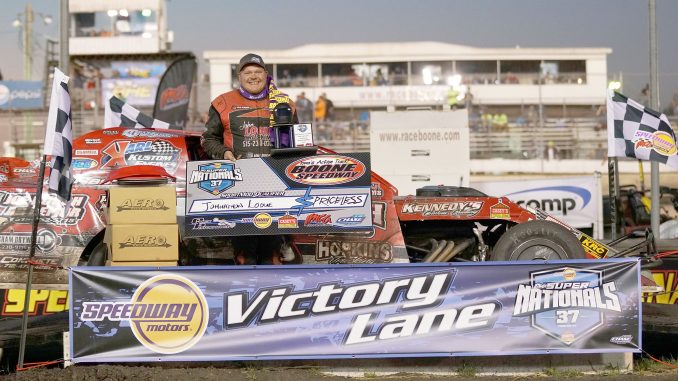 BOONE, Iowa (Sept. 3) – Johnathon Logue led maybe two inches at the finish.
Kyle Olson led the final two laps.
Both raced to Northern SportMod qualifying feature victories Tuesday night at the IMCA Speedway Motors Super Nationals fueled by Casey's.
2014 champion Logue reeled in, then beat long-time race leader Bo Partain to the checkers by all of 13 thousandth's of a second to capture the first qualifier at Boone Speedway.
Casa Grande, Ariz. speedster Partain had led five of the first six circuits and laps 11-24 before Logue eked by at the stripe on his hometown oval.
The top eight finishers from that race advance to the middle row of Saturday's main event, with Austen Becerra of Carthage, Ill., Colby Fett of Algona, 2016 champion Doug Smith of Lake City, Jake Hagemann of Fort Ripley, Minn., Jason Bass of Fort Dodge and 22nd starting Tyler Inman of Altoona chasing the front pair to the checkers.
Olson, from Cedar Rapids, drew the pole start but it was outside row one starter Kyle Bentley who set a blazing pace for the first 23 laps of the caution-slowed second qualifier.
The last yellow brought out a lap 21 restart. Olson caught Bentley for the lead two laps later to get the win.
He'll start at the front of the outside row in the main event on Saturday with Bentley, from Fairbank, Olson's cousin Tony, also from Cedar Rapids, Shane Paris of Muscatine, 2013 champion Carter VanDenBerg of Oskaloosa, Tyler Soppe of Sherrill, Brayton Carter of Oskaloosa and Dakota Sproul of Hays, Kan., taking the checkers behind him.
Smith is now an eight-time Super Nationals qualifier. Tony Olson is in for the seventh time, Logue the sixth, Soppe the fourth and Fett, Bentley, VanDenBerg, Carter and Sproul each for the third.
Becerra and Kyle Olson each go Dancing for the second time in their careers. Joining Partain as first-time qualifiers are Hagemann, Bass, Inman and Paris.
Wednesday's last-chance feature adds the final six cars to the main event field of 30.
Feature Results
1st qualifying feature – 1. Johnathon Logue, Boone; 2. Bo Partain, Casa Grande, Ariz.; 3. Austen Becerra, Carthage, Ill.; 4. Colby Fett, Algona; 5. Doug Smith, Lake City; 6. Jake Hagemann, Fort Ripley, Minn.; 7. Jason Bass, Fort Dodge; 8. Tyler Inman, Altoona; 9. Brett Berry, Colby, Kan.; 10. Dusty Masolini, Des Moines; 11. Mitchell Morris, St. Charles; 12. Chris Wright, Chillicothe, Mo.; 13. Robby Rosselli, Minot, N.D.; 14. Conner VandeWeerd, Alton; 15. Kent Haugland, Wesley; 16. Austin Schrage, Cresco; 17. Cameron Meyer, Pierce, Neb.; 18. Timothy Warner, Malone, Wis.; 19. Chad Briese, Albion, Neb.; 20. Timothy Eaton, St. Joseph, Mo.; 21. Ty Rogers, Somerton, Ariz.; 22. Brandon Patava, Des Moines; 23. Vern Jackson, Waterloo; 24. Brian Schrage, Cresco; 25. Sean Manning, Bennington, Neb.; 26. Andrew Swailes, Ainsworth; 27. Chris Burke, Altoona; 28. Earl Woodward, Fort Morgan, Colo.; 29. Eric Bassett, Mankato, Minn.; 30. Michael Parcel, Bondurant.
2nd qualifying feature – 1. Kyle Olson, Cedar Rapids; 2. Kyle Bentley, Fairbank; 3. Tony Olson, Cedar Rapids; 4. Shane Paris, Muscatine; 5. Carter VanDenBerg, Oskaloosa; 6. Tyler Soppe, Sherrill; 7. Brayton Carter, Oskaloosa; 8. Dakota Sproul, Hays, Kan.; 9. Jesse Levin, Salina, Kan.; 10. Matt Webb, Des Moines; 11. Steve Clancy, Odessa, Mo.; 12. Jeffrey Sears, St. Joe, Mo.; 13. Shelby Frye, Chandler, Ariz.; 14. Jeremiah Reed, Otho; 15. Robert Moore, Maxwell; 16. Nate Albrant, Britt; 17. Dylan Petersen, Jacksonville; 18. Daniel Fellows, Keokuk; 19. Nathan Mumm, Harlan; 20. Arron Duvall, Milan, Mo.; 21. Brett Thomas, Cedar Rapids; 22. Ben Stockton, Kansas City, Mo.; 23. Jake Sachau, Denison; 24. Tim Judd, Wall Lake; 25. Zech Norgaard, Spencer; 26. George Nordman, Mason City; 27. Philip Kenner, Sidney, Mont.; 28. Travis Burger, Manhattan, Kan.; 29. Justin Bell, Louisville, Neb.; 30. Danny Roe, Turlock, Calif.