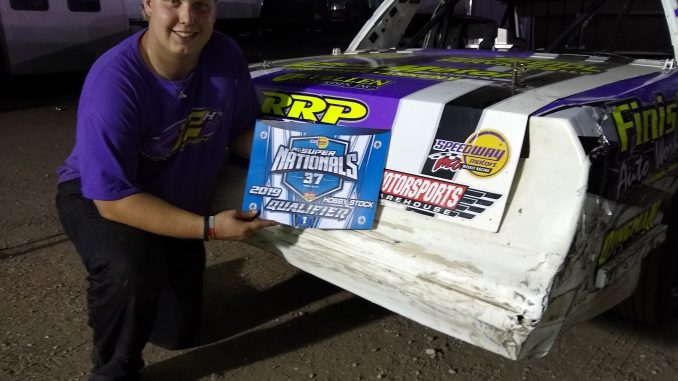 BOONE, Iowa (Sept. 2) – Miciah Hidlebaugh has enjoyed racing with many of the best Hobby Stock drivers in IMCA throughout his rookie season.
He'll race with them again Saturday night in the main event at the IMCA Speedway Motors Super Nationals fueled by Casey's.
The 19-year-old from Adel earned his date in the big dance by running seventh in Monday's se­cond qualifying feature at Boone Speedway.
"I was hoping to but didn't think I'd make it. Not a lot of people do but my car has been really good all year," Hidlebaugh said. "On Saturday night I'm just going to try to keep my nose clean and run up front with the big dogs. It's fun to race with drivers who are fast every week."
Hidlebaugh watched his father race a Stock Car and always wanted to get into a full-bodied car himself. His first-year Hobby Stock campaign most often took him to Stuart and Boone.
He got his start in the sport in go-karts. Hidlebaugh started eighth in his qualifier and ran as high as fourth part of the way before ending in seventh, one spot behind national point leader Jeff Ware and fully aware of how many cars had finished ahead of him.
"I knew I had qualified," Hidlebaugh said after helping push his car out of the post-race tech tent. "I was screaming in my helmet."