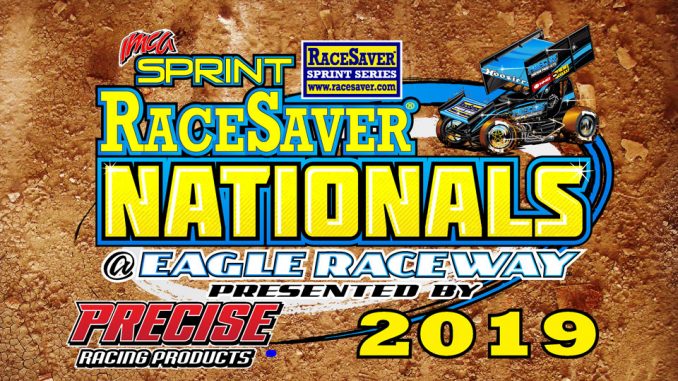 EAGLE, Neb. – Just a little over two weeks from today, the initial night of the 2019 RaceSaver Nationals kicks off at Eagle Raceway with qualifying heats for the Jake Ita Memorial Race of Champions and a practice night for all competitors.
Prior to being able to compete at the Aug. 29-Sept. 1 Nationals, each and every IMCA RaceSaver Sprint Car and engine that will see action has to go through the most rigorous and thorough technical inspection seen in any sprint car sanction in the world. Not one wheel will hit the track without passing that inspection to ensure that every team has the opportunity to compete on an even footing.
Then on Friday, the teams will go through a complete show of heats and features to determine the first three rows of the final "A" main on Sunday. Saturday sees another set of heats and features to set the next three rows for the finale.
Sunday will have nothing but features, all run to find out who the final nine cars will be to battle in the Big Show that completes the weekend. That final race will see the fastest 27 IMCA RaceSaver cars in the country take off from a flying three-wide start on the high banks at Eagle!
Those of you who have had the good fortune to witness this phenomena will testify that there is nothing quite so exciting or scary as nine rows of Sprints battling for superiority on a great bullring!
As you all know, RaceSaver Nationals has come to be known as the biggest Sprint Car race in the world, and is held on the fastest 1/3-mile dirt track anywhere, Eagle Raceway. Every year, racers from every corner of the country jump in their rigs and tow thousands of miles to be a part of this fabulous contest.
Each and every one of them know that they have an equal chance of coming home the winner because, thanks to the RaceSaver rules and the strict technical inspections, money cannot buy you a win.
In addition to fabulous action on the track, fans will be treated to the death defying exploits of this year's Grand Marshal; Dr Danger!
Those of you who have been attending races for a long time will be reminded of the days of Joie Chitwood's travelling show and the younger fans have most likely seen him on such televised shows as American Daredevils, Nitro Circus and even America's Got Talent. He will be putting on a show each and every night Friday through Sunday. You can see a sample of his stunts by going to https://www.youtube.com/watch?v=aVcYGQKSs0M&feature=youtu.be You can also attend the press conference at 3 p.m. on Aug. 29 for up-close interaction with him, past winners of the event and other notable drivers.
Overs the previous six years the RaceSaver Nationals has seen five different winners with only Springfield, Neb.'s Jack Dover being able to take home a win more than once. Three of the victories went to local racers and three of them have been taken homeby an invader. Which group will come out on top this year and don the winner's belt and take home the $2,500 share of the prize fund that goes with the championship? Locals or outsiders? Who has your vote?
To find out for yourself, just get to Eagle Raceway beginning Thursday August 29th and be ready for the closest racing you've seen in a long, long time!
For more information about the racing, tickets and to find out more about the goings on during the day, please visit http://www.eagleraceway.com/EagleRaceway/ and click on the RaceSaver Nationals tab.
The 82 drivers, from a dozen states, pre-registered for the seventh annual RaceSaver Nationals now include:
Gene Ackland, Martell
Brandon Anderson, Glenpool, Okla.
Ethan Barrow, Bloomington, Ind.
Brett Becker, Odessa, Texas
Clint Benson, Papillion
Zach Blurton, Lincoln
Daren Bolac, Mayoc, N.C.
Branson Bosma, Round Lake, Minn.
Mike Boston, Lincoln
Johnny Brown, Orange, Texas
Jake Bubak, Arvada, Colo.
Trey Burke, League City, Texas
Dwight Carter, Lincoln
Toby Chapman, Panama
Justin Clark, Hamersville, Ohio
Taylor Courtney, Fort Worth, Texas
Luke Cranston, Holcomb, Kan.
Blake Dacus, Fletcher, Okla.
Jason Danley, Lincoln
Joey Danley, Lincoln
Keith Dragoo, Greenwood
Tyler Drueke, Eagle
Claud Estes III, Godley, Texas
Colby Estes, Mansfield, Texas
Daniel Estes Jr., Burleson, Texas
Daniel Estes Sr., Mansfield, Texas
Jacob Gomola, Seneca, Pa.
Jesse Graham, Lewisville, Texas
Trey Gropp, Lincoln
Trevor Grossenbacher, Bennet
Adam Gullion, Lincoln
Ryan Hall, Midlothian, Texas
Rick Hansen, Omaha
Jacob Harris, Vidor, Texas
Jerald Harris, Dayton, Va.
Tyler Harris, Vidor, Texas
Brooklyn Holland, Fresno, Calif.
Brandon Horton, Waterloo
Mike Houseman, Des Moines, Iowa
Jason Howell, Fort Worth, Texas
Junior Jenkins, Greenville, Texas
Gary Kelley, Ardmore, Okla.
Ryan King, Bennet
Ryan Kitchen, Seward
Chad Koch, Lincoln
Cody Ledger, Omaha
Doug Lovegrove, Waverly
Charlie McDonald, Midlothian, Texas
Austin McLean, Loveland, Colo.
Jason Martin, Lincoln
Justin Melton, Justin, Texas
Michelle Melton, Flower Mound, Texas
Casey Merrell, Springtown, Texas
Jason Miller, Omaha
Joe Miller, Vail, Iowa
Mike Moore, Des Moines, Iowa
Daniel Nekolite, Oneill
Neil Nickolite, Bellwood
Rick Pendergast, Norfolk
Boyd Peterson, Ithaca
Shon Pointer, Grand Island
Kevin Ramey, Fort Worth, Texas
Matt Richards, Lincoln
Steven Richardson, Liberal, Kan.
John Ricketts, Burleson, Texas
Josh Riggins, Lincoln
Jeremy Schultz, Stewart, Minn.
Andy Shouse, Oklahoma City, Okla.
Colin Smith, Sheldon, Iowa
Stuart Snyder, Lincoln
Jeff Stefonick, Aurora, Colo.
Randy Sterling, Morrisdale, Pa.
Bradley Sterrett, Bloomington, Ind.
Dustin Stroup, Fremont, Ohio
Mark Vanderheiden, Papillion
Robert Vetter, Wolfe City, Texas
Jerrad Warhurst, Joshua, Texas
Charlie Ware, Hallieford, Va.
John Webster, North Platte
Chase Weiler, Lincoln
Nathan Weiler, LaVista
Chad Wilson, North Richland Hills, Texas