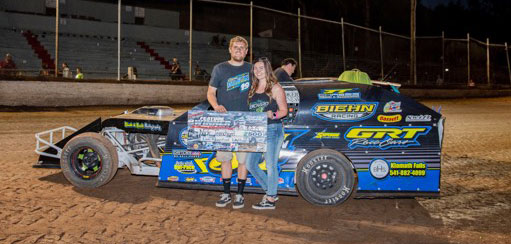 By Ben Deatherage
COTTAGE GROVE, Ore. (Aug. 3) – Nick Trenchard became the 10th different Mohawk Metal IMCA Modified winner of the season at Cottage Grove Speedway on Saturday night.
Eston Whisler was ultra-quick at the start, pacing the first 10 circuits before being overtaken by Evan Britton.
Britton was collected in a wreck in lapped traffic on the next trip around the track and that put Whilser back in front. He led until lap 16 when John Campos got around him.
Campos had to battle for the lead after a restart with 17 circuits completed. Trenchard powered his way underneath Campos to take over the top spot.
However, Campos was not going to go into the night quietly, dueling with Trenchard throughout the closing laps. Trenchard came out on top to win his first victory at CGS in 2019 and become the 10th different driver to best the competition at The Grove.
Campos was second over third finishing Aaron Sheelar. Posting a fourth-place result was Whilser while Kevin Williamson ended his evening in fifth.