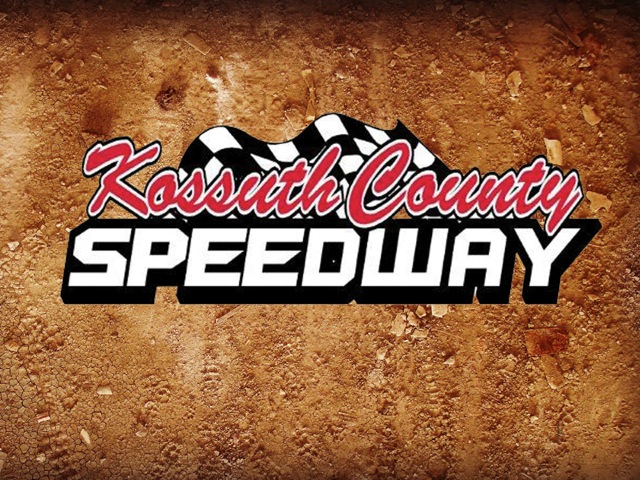 By Greg Grabianowski
ALGONA, (Iowa (Aug. 3) – Another big event at Kossuth County Speedway brought out the best in Nick Meyer Saturday night.
The IMCA Modified winner at last month's Salute to Veterans special, Meyer returned to victory lane in the Harken Memorial, held on the second night of racing during the county fair.
Jeremy Mills and Ben Kraus brought the field to the flag stand for what would prove a caution-free con­test. Mills grabbed the early lead but Meyer took over the top spot on the third lap and cruised to the fea­ture win.
Mills placed second followed by Austin Wolf, Rob Hughes and Cody Knecht.
Jake Masters drew the pole for the IMCA Sunoco Stock Car feature and accepted the challenge to start at the back of the 23-car field with the chance to earn an extra $500 if he could win the race.
One lap after an early restart, Derek Green took over as the new leader. He continued to dominate the race and went onto the victory as Masters used the high side of the track to steer his number 11 rig to fifth.
Masters earned an extra $100 as the hard charger.
Bryce Sommerfeld got to the front on the seventh lap and led to the IMCA Sunoco Hobby Stock checkers. James Burns had the best run of his career with a second place showing.
Pole starter Nate Whitehurst was scored first across the stripe from start to finish in the Karl Kustons North­ern SportMod feature and Oliver Monson was the Mach-1 Sport Compact winner.
New members inducted into the Kossuth County Racing Hall of Fame earlier in the evening were former IMCA Modified national and Super Nationals champion Ron Pope, Larry Lenz, Kevin Berte, Jerry Pingel, Del Stokke and Edgar Meyer.
Feature Results
Modifieds – 1. Nick Meyer; 2. Jeremy Mills; 3. Austin Wolf; 4. Rob Hughes; 5. Cody Knecht; 6. Ben Schultze; 7. Chris Palsook; 8. Lyle Sathoff; 9. Josh Ruby; 10. Loren Pesicka Jr.; 11. Ben Kraus; 12. Jeff Feaster; 13. Troy Swearington; 14. Bradie Becker; 15. Phil Ricke.
Stock Cars – 1. Derek Green; 2. Chad Palmer; 3. Troy Swearington; 4. Calvin Lange; 5. Jake Masters; 6. Pete Alexander; 7. David Wickman; 8. Gary Pesicka; 9. Joe Schmit; 10. Dan Hanselman; 11. Austin Jahnz; 12. Kyle Ricke; 13. Bruce Wickman; 14. Laura Curry; 15. Andrew Inman; 16. Jacob Kofoot; 17. Wayne Landheer; 18. Devin Tripp; 19. John Wiemann; 20. Chris Mammen; 21. Chanse Hollatz; 22. Kevin Opheim; 23. Cary Heinen.
Hobby Stocks – 1. Bryce Sommerfeld; 2. James Burns; 3. Cody Nielsen; 4. Greg Sidles; 5. Charlie Ste­vens; 6. Jay Sidles; 7. Phil Lusson; 8. Tim Sidles; 9. Nathan Simpson; 10. Chad Krug; 11. Myles Koob; 12. Jamie Weishaar; 13. Chris Krug; 14. Ben Peterson; 15. Doug Wickman; 16. Josh Sidles; 17. Zack Smidt.
Northern SportMods – 1. Nate Whitehurst; 2. Alec Fett; 3. George Nordman; 4. Colby Fett; 5. Gerald Curry; 6. Matthew Hanson; 7. Jake Simpson; 8. Jeramie Faber; 9. Alex Smith; 10. Kyle Germundsen; 11. Doug Cook; 12. Kevin Wiemers; 13. Jacob Tacheny; 14. George Gilliland; 15. Troy Krug; 16. Nate Albrant.
Sport Compacts – 1. Oliver Monson; 2. Kaytee Devries; 3. Lucas Parsons; 4. Jade Lange; 5. Jay Devries; 6. Justin Nielson; 7. Megan Sandvig.