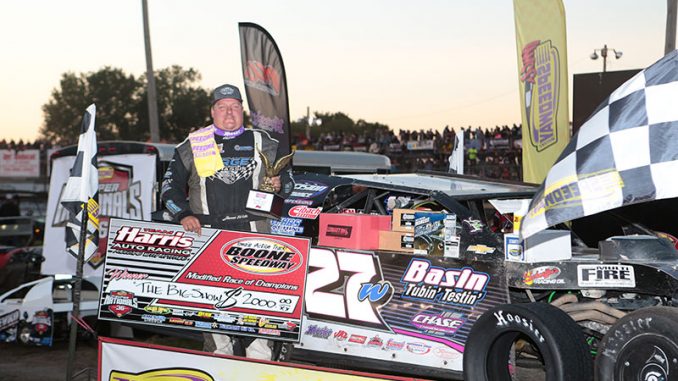 BOONE, Iowa – It's been one of the biggest Modified races on the IMCA schedule for more than three decades. 
And Jason Wolla will return to Boone Speedway in September, looking to defend his Harris Auto Racing Race of Champions title on the biggest stage in all of dirt track racing.
The 31st annual Harris Race of Champions matches 12 of IMCA's best Modified drivers in a 12-lap contest on Saturday, Sept. 7, the final day of the IMCA Speedway Motors Super Nationals fueled by Casey's.
Wolla became the 22nd different driver, and the first from North Dakota, to win the Harris RoC. He appreciates the achievement every bit as much today as he did while standing trophy in hand on the infield stage last September.
"Any time you go to Boone and compete with that level of racers, it's a big deal. "I enjoyed the race and hopefully we can repeat," said IMCA's 2017 national champion. "It means a lot to have this win on your resume."
Two hundred and five drivers, from 23 states and Canada, have qualified for one or more of the first 30 Harris RoC events.
Drivers eligible to qualify on Thursday, Sept. 5 for the race of champions include former national and Super Nationals champions and race of champions winners, 2019 track champions/point leader or the second-place driver if the leader is not in attendance at Super Nationals, and former regional champions crowned since 1993.
The race pays $1,000 to win plus $100 for each lap led. Wolla took home $2,000 for his 2018 exploits.
"You have to go into this race with an open mind, be willing to change what you're doing and adapt to track conditions" he said. "I think that when you try to turn it up mentally is when you make more mistakes, or at least I do, so you have to keep your mind clear and approach it like any other race. Regardless of whether you're racing one car or 500, there's only one place that matters and that's first."
Harris Auto Racing Race of Champions Winners
1989 – Wayne Larson, Ames
1990 – Larson
1991 – Bill Davis Sr., Des Moines
1992 – Mark Noble, Blooming Prairie, Minn.
1993 – Rex Merritt, Billings, Mo.
1994 – Davis
1995 – Rick Gustin, Marshalltown
1996 – Kelly Boen, Henderson, Colo.
1997 – Johnny Saathoff, Beatrice, Neb.
1998 – Saathoff
1999 – Noble
2000 – Al Hejna, Ventura
2001 – John Logue, Boone
2002 – Ron Pope, Mason City
2003 – David Murray Jr., Oberlin, Kan.
2004 – Scott Hogan, Vinton
2005 – Kevin Stoa, Polk City
2006 – Hejna
2007 – Jimmy Gustin, Marshalltown
2008 – Johnathan Thimmesch, Aurora
2009 – Jay Noteboom, Hinton
2010 – Clint Hatlestad, Glencoe, Minn.
2011 – Jimmy Gustin
2012 – Stoa
2013 – Dustin Smith, Lake City
2014 – Keith White, Little River Academy, Texas
2015 – Smith
2016 – Ricky Thornton Jr., Chandler, Ariz.
2017 – Kyle Strickler, Mooresville, N.C.
2018 – Jason Wolla, Ray, N.D.