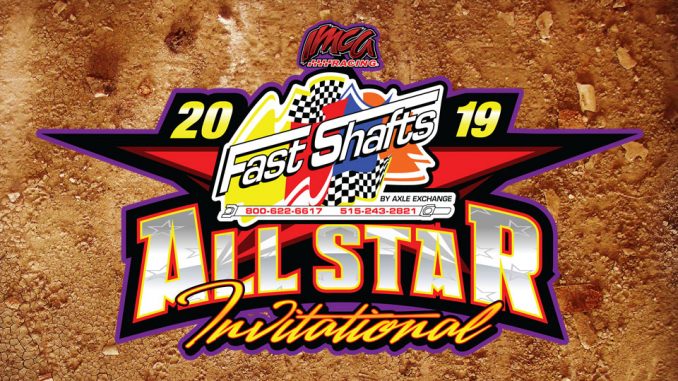 VINTON, Iowa – IMCA Nation goes to the electronic ballot booth on Election Day Tuesday, July 30 to select 28 of the 30 drivers who will start the Fast Shafts All-Star Invitational.
All voting will be done through the IMCA Facebook page, from 9 a.m. to 9 p.m. CST.
The top three vote recipients from each of the five Modified regions will be guaranteed starting spots, with their region of candidacy determined by where they made the majority of their IMCA sanctioned starts.
The next 13 drivers with the highest vote totals, regardless of region, become All-Stars.
"We'd like to see All-Star drivers get in the election spirit and promote their campaigns using social media," IMCA President Brett Root said. "I know there's a lot of imagination out there and it will be fun for fans to see what drivers can come up with in their respective campaigns to become part of one of our premier events."
Completing the field will be All-Star candidates with the top national point total and with the most 40-point feature wins as of Aug. 29 competing at the IMCA Speedway Motors Super Nationals fueled by Casey's.
The $1,000 to win, 30-lap event will be held Sept. 6 at Boone Speedway. All-Star drivers receive firesuits from Velocita and mini-replica drive shafts from event title sponsor Fast Shafts by Axle Exchange.
Final qualifying events for the 2019 ballot will be held Thursday, July 25 and an updated list of candidates announced the following Monday.
"We encourage drivers to notify us at the home office if they believe they should be on the ballot but are not (on the list that follows)," Root said. "We will verify their All-Star status before making any additions. No drivers will be added to the ballot once it is finalized."
One hundred and twenty-six IMCA Modified drivers are now vote eligible for the 16th annual Fast Shafts All-Star Invitational.
Listed alphabetically, drivers on the Fast Shafts All-Star Invitational ballot now include:
Jeffrey Abbey, Chris Abelson, Jeff Aikey, Chase Allen, Ricky Alvarado, Drew Armstrong, Austin Arneson, Casey Arneson, Chaz Baca, Jerry Bailey, Eric Barnes, Brandon Beckendorf, Eddie Belec and Tom Berry Jr.
Tanner Black, Steven Bowers Jr., Chris Bragg, Kyle Brown, Brad Calhoun, Cayden Carter, Kellen Chadwick, Chad Clancy, Duane Cleveland, Brandon Clough, Brandon Conkwright and Curtis Cook.
Brian Cross, Clay Daly, Cory Davis, Jon DeBenedetti, Nick DeCarlo, Colin Deming, Jesse Dennis, Zane DeVilbiss, Shane DeVolder, Myron DeYoung, Zach Dockter and Justin Dunn.
Neal Flowers, Scott Foreman, Troy Foulger, Greg Friestad, Jaden Fryer, Bryce Garnhart, Brendon Gemmill, Josh Gilman, William Gould, Jordan Grabouski, Jimmy Gustin, Richie Gustin and Michael Hale.
Kolby Hannah, John Hansen, Jeff Hoegh, Scott Hogan, Bobby Hogge IV, Darrell Hughes II, Jason Hughes, Bricen James, Justin Kay, Billy Kendall, Austin Kiefer and Eddie Kirchoff.
Brekken Kleinschmidt, Oliver Kollofski, Jeff Larson, Dennis LaVeine, Tyler Limoges, Ryan McDaniel, Josh McGaha, Zachary Madrid, Hunter Marriott, Rich Michael Jr., Robert Miller and Trevor Miller.
Clay Money, Bob Moore, Rodney Morgan, Jason Noll, Guy Norton, Kyle Olberding, Chris Olexiewicz, Jake O'Neil, Toby Patchen, Tyler Peterson, Joey Price and Clint Reichenbach.
Ryan Roath, James Roete, Anthony Roth, Joel Rust, Ryan Ruter, Cory Sample, Robby Sawyer, Kody Scholpp, Johnny Scott, Marlyn Seidler, D.J. Shannon, Kelly Shryock and Riley Simmons.
James Slawson, Rob Slott, Brad Smith, Kelly Smith, Jesse Sobbing, Beau Speicher, Alex Stanford, Ricky Stephan, Tyler Stevens, Andy Strait, Kyle Strickler, Chris Swenson and Collin Thirlby.
Ricky Thornton Jr., Nick Trenchard, Shadren Turner, Dominic Ursetta, Danny Wagner, Shawn Walsh, A.J. Ward, Tim Ward, Johnny Whitman, Collen Winebarger, Jason Wolla, Marcus Yarie and Braxton Yeager.