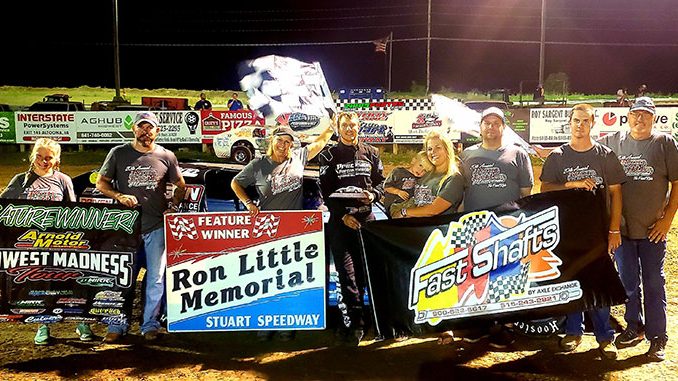 By Josh Reynolds
STUART, Iowa (July 2) – Everything about the Ron Little Memorial was big.
A track record 141 cars took to the track Tuesday for the 20th and final event at Stuart Speedway. Forty-seven of those entries were IMCA Modifieds and Hunter Marriott wrote his name in as the $2,000 feature winner of a 30-lapper that ran green to checkers.
Dubbed The Final Ride by members of the late IMCA Modified driver's family, the main event saw Mar­riott and Travis Hatcher show the way, with Marriott leading Josh Most and Hatcher early on.
Cody Laney advanced to third on lap four and with three and even four wide racing back in the pack it was still Marriott out front at the halfway point.
Lapped traffic started around this time, but Marriott was smooth and strong as he went on to lead the entire way to pick up the top check. The Missouri speedster was already qualifier for the Fast Shafts All-Star Invitational ballot.
Jeff Aikey came from tenth to second in his first ever visit to Stuart with 14th starting Jesse Sob­bing third, Most fourth and Laney fifth.
Buck Schafroth took the lead early and stayed there to the $1,000 IMCA Sunoco Stock Car check­ers.
A caution set up a four-lap dash to the checkers with Brandon Pruitt and then Mike Nichols challeng­ing before Schafroth took the checkers.
Both Modified and Stock Car events were part of the Arnold Motor Supply Midwest Madness Tour.
Doug Smith followed the mid-program fireworks display with an impressive show of his own, win­ning the Karl Kustoms Northern SportMod feature and $1,000.
Eleventh starting Solomon Bennett topped the IMCA Sunoco Hobby Stock feature and Chris Vannausdle won the Mach-1 Sport Compact main event.
Feature Results
Modifieds – 1. Hunter Marriott; 2. Jeff Aikey; 3. Jesse Sobbing; 4. Josh Most; 5. Cody Laney; 6. Tim Ward; 7. Travis Hatcher; 8. Nick Roberts; 9. Chris Abelson; 10. Todd Shute; 11. Josh May; 12. Josh Gilman; 13. Shane DeMey; 14. Kollin Hibdon; 15. Jacob Hobscheidt; 16. Randy Foote; 17. Ethan Braaksma; 18. Ryan Jenkins; 19. Jesse Dennis; 20. Brandon Spanjer; 21. Matt Bonine; 22. Austin Howes; 23. Austin Kuehl; 24. Joel Bushore.
Stock Cars – 1. Buck Schafroth; 2. Mike Nichols; 3. Brandon Pruitt; 4. Kyle Brown; 5. Chris Pruitt; 6. Marcus Fagan; 7. Daniel Hilsabeck; 8. Damon Murty; 9. Jeremy Gettler; 10. Josh Dan­iels; 11. Robert Stofer; 12. Gary Bass; 13. Dusty Van Horn; 14. Mike Albertsen; 15. Dan Macken­thun; 16. Chad LeGere; 17. Keith Simmons; 18. Kurt Hansen; 19. Corey Piffer; 20. Bryan Snell; 21. Todd VanEaton; 22. Brock Badger; 23. Craig Carlson; 24. Mike Stapleton.
Hobby Stocks – 1. Solomon Bennett; 2. Chuck Madden Jr.; 3. Jack Phillips; 4. Zach Hem­mingsen; 5. Adam Ayers; 6. Jordan Androy; 7. Corey Madden; 8. Matthew Wahl; 9. Jamie Coady; 10. Tanner Dixon; 11. Dustin Thompson; 12. Miciah Hidlebaugh; 13. Jerry Richards; 14. Dallas Larson; 15. Richard Pahlka Jr.; 16. Dylan Nelson; 17. Nick Foster; 18. Ralph Jones.
Northern SportMods – 1. Doug Smith; 2. Thomas Egenberger; 3. Brayton Carter; 4. Hunter Longnecker; 5. Jake Sachau; 6. Dylan VanWyk; 7. Cody Olsen; 8. Daniel Fellows; 9. Colton Nel­son; 10. Daniel Baudler; 11. Kyle Bentley; 12. Austin Kaplan; 13. Tyler Inman; 14. Kody Havens; 15. David Schwartz; 16. Dusty Masolini; 17. Brett Vanderheiden; 18. Garrett Nelson; 19. Brandon Patava; 20. Ronnie Hults; 21. Blair Simmons; 22. Ed Hamilton; 23. Mitchell Morris; 24. BryBryan Morris.
Sport Compacts – 1. Chris Vannausdle; 2. Ramsey Meyer; 3. Tyler Fiebelkorn; 4. Mitchell Bunch; 5. Colton Garside; 6. Shannon Mahlberg; 7. Anthony Clark; 8. Bruce Hower; 9. Curtis Master­son; 10. James Reeves; 11. Nikole Kimmel; 12. Owen Richards; 13. Kolby Sabin; 14. Hunter Patrick; 15. Ryan Barnes; 16. Logan Richards; 17. Terry Hurley; 18. Michael Love.