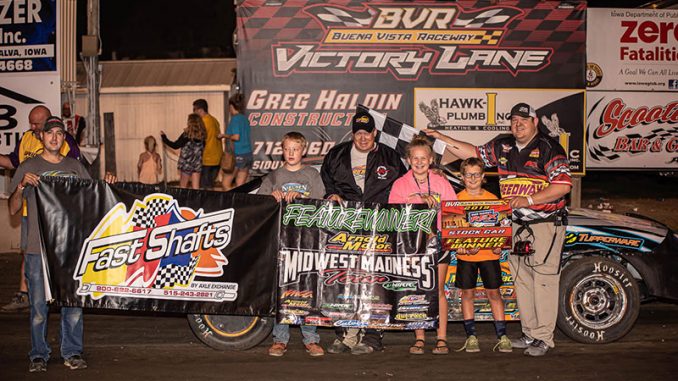 ALTA, Iowa (July 3) – David Smith started a new streak Wednesday night at Buena Vista Race­way.
Smith led the last eight circuits in topping the Kyle Suter Memorial for IMCA Sunoco Stock Cars at Alta. He's now won the event "eight or nine times," including a streak of five in a row from 2013-2017.
"This is always a good one to win," said Smith, who banked $1,500 following the victory, also the fourth installment of the Arnold Motor Supply Midwest Madness Tour. "It's getting harder to win any more. The competition is so good."
Pole starter Brian Blessington led early before giving way to Smith's brother Devin. After a side-by-side battle, David pulled ahead following a restart with eight laps left in the 25-lapper.
The win was the second of the week for Smith, also first to the checkers in the Sunday show at Clay County Fair Speedway, his fifth of the season and career 182nd in the division.
Chris Ullrich, 12th starting Jake Masters, 17th starting Angel Munoz and Blessington completed the top five.
One hundred and twenty-seven cars saw action in the holiday eve show, 31 of them Stock Car entries.
After drawing "that darn 12," Kelly Shryock raced from mid-pack to win the IMCA Modified feature, earning $1,000 and taking another step toward the 100-win mark in the division.
Shryock got up to second, with a late restart resulting in a green, white, checkered finish. He caught Jesse Sobbing and won by about a car length.
"My family has a lot of history at Alta," noted Shryock, already on the Fast Shafts All-Star Invita­tional ballot. "It means a lot for us to win here."
Doug Smith racked up another Karl Kustoms Northern SportMod victory, ahead of 12th starting Cody Thompson and 11th starting Cody Olsen.
John Briggs took the IMCA Sunoco Hobby Stock checkers ahead of Andrew Claus and Craig Brother­ton, and Kaytee DeVries scored the Mach-1 Sport Compact victory, in front of Jay DeVries and Danny Vanderveen.
Feature Results
Stock Cars – 1. David Smith; 2. Chris Ullrich; 3. Jake Masters; 4. Angel Munoz; 5. Brian Blessing­ton; 6. Devin Smith; 7. Dan Mackenthun; 8. Stefan Sybesma; 9. Elijah Zevenbergen; 10. Mike Vondrak; 11. Mel Elsberry; 12. Mike Stapleton; 13. Tyler Pickett; 14. Merle Bass; 15. Mike Harris; 16. Mike Albertsen; 17. Josh Suhr; 18. Justin Nehring; 19. Curt Vanbeek; 20. J.J. Baumli; 21. Donavon Smith; 22. Curt Hook; 23. Bill Crimmins; 24. Steve Meyer.
Modifieds – 1. Kelly Shryock; 2. Jesse Sobbing; 3. Josh Most; 4. Craig Reetz; 5. Jeremy Mills; 6. Chris Abelson; 7. Corey Dripps; 8. Travis Hatcher; 9. Jesse Dennis; 10. Jacob Hobscheidt; 11. Matt Bonine; 12. Nate Hughes; 13. Brad Bergren; 14. Stacey Mills; 15. R.J. Merchant; 16. Jesse Rogotzke; 17. Brandon Aggen; 18. Mike Lineberry; 19. Trey Kline; 20. Jason Brees; 21. Ricky Stephan; 22. Shane DeMey; 23. Corey Bosma; 24. Karl Brewer; 25. Ben Kraus; 26. Cody Knecht.
Hobby Stocks – 1. John Briggs; 2. Andrew Claus; 3. Craig Brotherton; 4. Justin Frederick; 5. Cody Nielsen; 6. Brandon Nielsen; 7. Kevin Bruck; 8. Nick Schilling; 9. Jeremy Crimmins; 10. Kur­tis Bonneson; 11. Jake Bieret; 12. Conner Hildreth; 13. Dillon Magnussen; 14. Austin Pinney; 15. Mike Smith; 16. Daniel Smith; 17. Mike Swain; 18. Zach Weier; 19. Kent Husted; 20. Gaylen Freese; 21. Derek Husted; 22. Drew Barglof; 23. Jimmy Johnson.
Northern SportMods – 1. Doug Smith; 2. Cody Thompson; 3. Cody Olsen; 4. Rusty Montagne; 5. Connor Vande Weerd; 6. Cameron Vande Weerd; 7. John Foreman; 8. Brady Joynt; 9. Tim Rupp; 10. Justin Patterson; 11. Keith DeMey; 12. Christian Sylvester; 13. Ryan Sams; 14. Brody Spreng; 15. Chris DaMara; 16. Tommy Hensley; 17. A.J. Boulware; 18. Dustin Lynch; 19. Justin Bettin; 20. Brandon Thomas; 21. Alex Bailey; 22. Kayden Dirks.
Sport Compacts – 1. Kaytee DeVries; 2. Jay DeVries; 3. Danny Vanderveen; 4. Jason Hanson; 5. Jake Newsom; 6. Riley Paysen; 7. Jade Lange; 8. John Gill; 9. Corey Nammany; 10. Logan Kelly; 11. Gilbert Aldape; 12. Jarad Gross; 13. Mark Lindgren; 14. Auston Honeycutt; 15. Nate Fontenot.