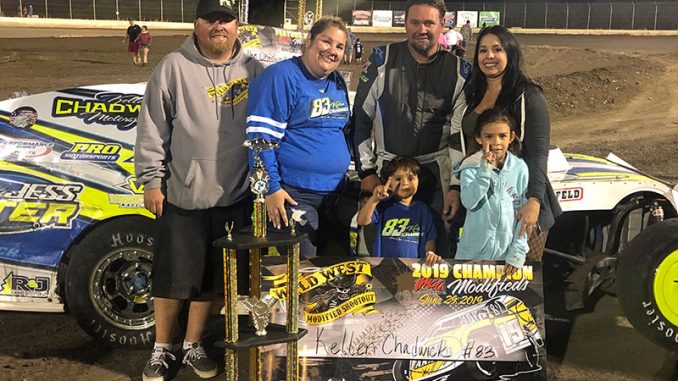 By Ben Deatherage
LEBANON, Ore. (June 29) – Collen Winebarger won a single season record fifth feature while Kellen Chadwick's victory in Saturday's finale at Willamette Speedway netted him the Wild West IMCA Modified Shootout crown.
Chadwick had four runner-up finishes to go with a pair of $1,000 checkers during the eight-race series, beating Winebarger, who'd finished 17th in the fourth tour outing, for the title by 10 points.
In the afternoon make-up feature it was utter dominance by Winebarger, who led all 35 laps. All that slow him down were six stoppages, but he mastered every single restart.
The win marked Winebarger's fifth of the week, third in a row and set the record for most triumphs in a single season with the series. It was also Winebarger's eighth career Wild West victory and his fourth tour win at Willamette.
John Campos was second followed by Chadwick, Grey Ferrando and Brad Martin.
In the grand finale, the main event consisted of 24 cars starting three-wide.
Dustin Cady cracked the whip early, launching his entry to the front. Cady retained the top spot until lap 12 when North Dakota's Travis Peery made the pass to the front.
Peery held onto point until mechanical problems ended his night early and handed the lead over to Chadwick.
Chadwick held on the balance of the distance to win for the sixth time in his Wild West Shootout career and for the first at Willamette. Cady held on to second while Matthew Drager was third. Joey Tanner crossed the wire fourth but was light at the scales. That bumped Winebarger to fourth while Danny Lauer was promoted to fifth.
Make-up feature results – 1. Collen Winebarger; 2. John Campos; 3. Kellen Chadwick; 4. Grey Ferrando; 5. Brad Martin; 6. Lawrence O'Connor; 7. Travis Peery; 8. Matthew Drager; 9. Jimmy Lipke; 10. Steve Moore; 11. Bricen James; 12. Jake Pike; 13. Geoff Morris; 14. Matt Jenner; 15. Paul Rea; 16. Mike Sweere; 17. Jeffrey Hudson; 18. Jeff Lovell; 19. Eston Whisler.
Scheduled feature results – 1. Chadwick; 2. Dustin Cady; 3. Drager; 4. Winebarger; 5. Danny Lauer; 6. James; 7. Jesse Williamson; 8. Martin; 9. Ferrando; 10. Jerry Flippo; 11. Campos; 12. Derick Young; 13. Jeremy Shank; 14. Rea; 15. Tyler Walker; 16. Morris; 17. Whisler; 18. Lipke; 19. Carl Berendsen; 20. Moore; 21. Peery; 22. Pike; 23. Aaron Sheelar.