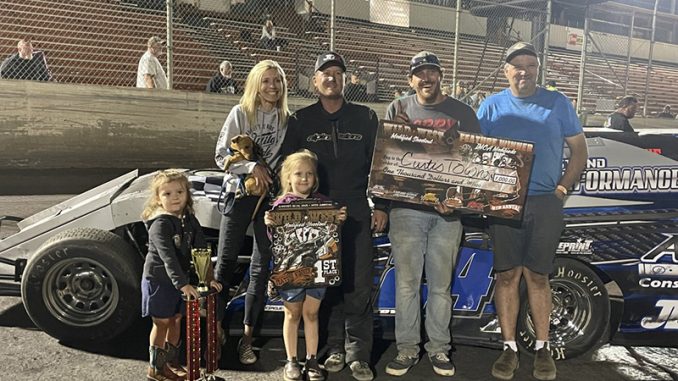 By Ben Deatherage 
LEBANON, Ore. (Aug. 8) – The third night at Willamette Speedway was the Sunday night charm for Curtis Towns.
Towns topped the third event in as many nights to start the Wild West IMCA Modified Shootout, earning $1,000 and Fast Shafts All-Star Invitational qualifying eligibility.
He'd taken advantage of his inside front row starting position in the 40-lap feature, hoping to bounce back after failing to make the feature on Friday night. Towns set a rapid pace but was eventually caught once he entered traffic.
Collen Winebarger put the pass on Towns on lap 14. Dominant the previous evening and looking to make it two victories in a row, the new leader had no real issues whether on an open race track or in traffic.
Unfortunately, Winebarger suffered a flat right rear tire with two laps to go. Towns was there to retake the lead and powered his way to his first career Wild West Modified Shootout checkered flag.
Mark Carrell was second while Danny Lauer placed third. Eston Whisler and Jake Mayden were scored next.
Trevor Points had the car to beat for the majority of the 25-lap Karl Kustoms Northern SportMod main.
Points lost the lead on the 19th circuit to Friday winner Dustin Comer, who set a torrid pace the balance of the distance.
Points was second over Mike Ficklin. Skyler Winebarger ended the race fourth while Ryan Peery was fifth.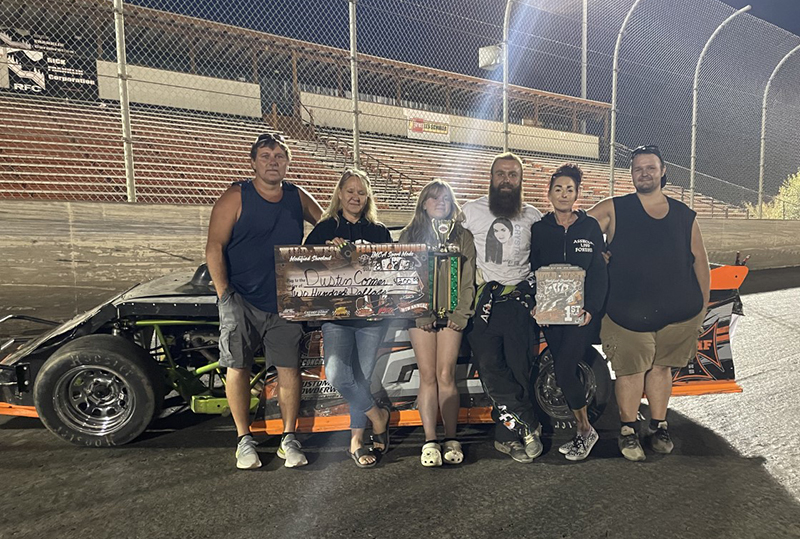 Dustin Comer added a second Wild West Shootout trophy to his 2021 collection with the Sunday night Karl Kustoms Northern SportMod feature win at Willamette Speedway. (Photo by Stephanie Deatherage)
The Wild West Modified Shootout visits the second track of the 2021 tour when it heads to Cottage Grove Speedway on Monday, Aug. 9. Both IMCA Modifieds and Karl Kustoms Northern SportMods will be in the house.
Feature Results
Modifieds – 1. Curtis Towns; 2. Mark Carrell; 3. Danny Lauer; 4. Eston Whisler; 5. Jake Mayden; 6. Steve Moore; 7. Jeff Lovell; 8. Aaron Elwess; 9. Chance Hyser; 10. Jesse Williamson; 11. Collen Winebarger; 12. Mark Gaylord; 13. Jeffrey Hudson; 14. Brian Thompson; 15. Clyde White; 16. Ian Whisler; 17. Jerry Schram; 18. Dustin Asher; 19. Greg Walters; 20. Robert Jenner.
Northern SportMods – 1. Dustin Comer; 2. Trevor Points; 3. Mike Ficklin; 4. Skyler Winebarger; 5. Keith Foux; 6. Ryan Peery; 7. Michael Melton; 8. K.C. Scott; 9. David Schmidt; 10. Justin Ryker; 11. Tanner Krohling; 12 Matt Sanders.