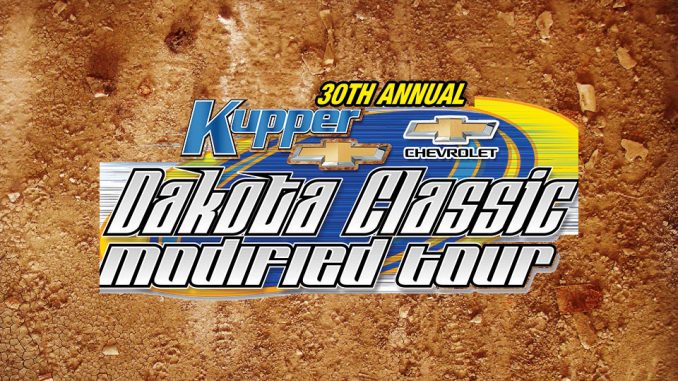 JAMESTOWN, N.D. – Registration is underway for a tour three decades in the making.
IMCA Modified and IMCA Sunoco Stock Car drivers planning to follow the 30th annual Kupper Chevrolet Dakota Classic Tour can now go to the www.dakotamodtour.com website to register and make themselves eligible for contingency awards and reserve car numbers.
"This tour has become something of an institution," noted founder and director John Gartner. "Drivers come from all over the United States and Canada to enjoy the competition as well as the hospitality."
"Thirty years ago, we had no inkling that this tour would be this successful," he added. "The tracks, the drivers and the sponsors who have been part of the tour deserve a lot of credit."
Modifieds race for $2,400 to win, Stock Cars for $800 to win on July 6 at Jamestown Speedway; July 7 at Nodak Speedway; July 8 at Estevan Motor Speedway; July 9 at Williston Basin Speedway; July 10 at Southwest Speedway; and July 11 at Dacotah Speedway.
All six Modified tour features are qualifying events for the 2019 Fast Shafts All-Star Invitational, as is the $10,004 to win Corral Sales Legendary 50 on July 12, also at Mandan.
Title sponsor Kupper Chevrolet of Mandan provides point funds of $2,000 for the Modifieds and $1,000 for the Stock Cars. Industrial Electric of Dickinson has signed on as a Modified sponsor and adds $1,000 to the middle of the payout each night.
Passing points will be used to determine Modified feature lineups. Heat winners will line up in front of passing point leaders.
New in 2019 is the IMCA.TV Last Chance qualifier race. Drivers who do not make the show through heats or 'B' features can give it one last shot by winning this LCQ feature and tag the back of the main event.
Each LCQ has a $1,000 total purse provided by IMCA.TV, the official broadcast provider of the Dakota Classic Tour, available on the Web at: www.imca.tv, Mobile/Tablet Apps, Roku, Fire TV, and Apple TV with a Monthly or Yearly Subscription to view.
IMCA Speedway Motors Weekly Racing National, Side Biter Chassis North Central Region and EQ Cylinder Heads Northern Region, and E3 Spark Plugs State points, but no track points will be awarded each night of the tour. National, regional and state points are at stake for the Legendary.
Entry fee for the Legendary is $150.
Drivers will be allowed to do anything to their car but change tires when they stop on the front stretch for a five-minute intermission, some time between laps 25 and 35. The leader at that point earns $500, as does one fan, chosen by drawing, in a contest to guess the leader at that yet to be determined point.
Pit gates at Mandan open at 3 p.m. and the grandstand opens at 5 p.m. on race day. Hot laps are at approximately 6:30 p.m. with racing at 7 p.m. Grandstand admission is $20 for adults and free for 15 and under. Pit passes are $30.
More information about the Dakota Tour and the fourth annual Legendary are available from Gartner at 701 202-6075.
Modified drivers pre-entered for the 30th annual Dakota Tour now include:
Cole Anderson, Northfield, Minn.;
Casey Arneson, Fargo;
Randy Artz, Battle Mountain, Nev.
Reese Artz, Battle Mountain, Nev.
Tom Berry, Newburg;
Justin Bieber, Fairview, Mont.;
Jacob Bleess, Chatfield, Minn.;
Cody Blixt, Clancy, Mont.;
Chris Bragg, Springtown, Texas;
Jarrett Carter, Lisbon;
John Corell, Jamestown;
Jason Dinius, Dickinson;
Zach Dockter, Norwich;
Tracy Domagala, Bismarck;
Isaiah Geisel, Torquay, Sask.;
Don Gumke, Jamestown;
Tyler Hall, Fertile, Minn.;
Keith Hammett, Brookland, Ark.;
Robert Hellebust, Minot;
Vernon Hill, Black Eagle, Mont.;
Vernon Hill Jr., Black Eagle, Mont.;
Jordan Huettl, Minot;
Kyler Jeffrey, Williston;
Paul Jones Jr., Casper, Wy.;
Billy Kendall, Baxter, Minn.;
Rusty Kollman, Carrington;
Hunter Marriott, Brookfield, Mo.;
Dale Neitzel, Billings, Mont.;
Shawn Nostdahl, Bottineau;
Cody Peterson, Glyndon, Minn.;
Kale Peterson, Estevan, Sask.;
Jon Plowman, Woodbine, Iowa;
Alan Riley, Florence, Mont.;
Josh Rogotzke, Sanborn, Minn.;
Brent Schlafmann, Bismarck;
Chris Schroeder, Williston;
Jake Schroeder, Williston;
Chris Seekings, Minot;
Marlyn Seidler, Underwood;
Jesse Skalicky, Fargo;
Ricky Thornton Jr. Adel, Iowa;
Marcus Tomlinson, Turtle Lake;
Myles Tomlinson, Turtle Lake;
Travis Ulmer, Mandan;
Tim Ward, Harcourt, Iowa;
Austin Wolf, Algona, Iowa;
Jason Wolla, Ray.

Pre-entered Stock Car drivers are:
Austin Daae, Estevan, Sask.;
Chase Davidson, Macoun, Sask.;

Chris Ellis, Williston;
Scott Gartner, Jamestown;
Mike Hagen, Williston;
Chris Hortness, Estevan, Sask.;
Jace Iverson, Tioga;
Keith Mattox, Ray;
Jake Nelson, Williston;
Randy Schultz, Swift Current, Sask.;
Ricky Thornton Jr., Adel, Iowa.