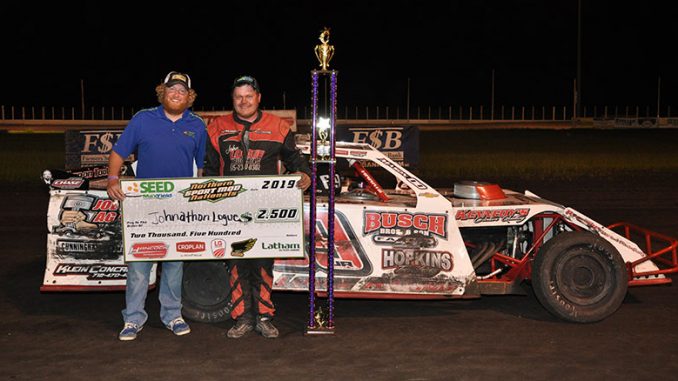 BRITT, Iowa (June 25) – One win in his first 19 starts of the season had Johnathon Logue looking for answers. 
He found them Tuesday night at Hancock County Speedway's MaxYield Seed SportMod Nationals.
Logue won his heat, the dash and the Karl Kustoms Northern SportMod main event, earning $2,700 in all for his efforts.
"My car was very, very good," said Logue, whose one previous victory this year had also been at Britt, on June 7. "It seems like we've been on the trouble bus with it all season. To be able to run as well as we did made it a fun night."
Brayton Carter, Jared Boumeester, Jake McBirnie and Jim Chisholm completed the top five across the stripe in the $2,500 to win feature. Forty-seven drivers from five states were entered.
"So many good drivers come to this event every year. I've always loved coming up here," said Logue, also the SportMod Nationals winner in 2016. "The amount of talent in this division is unbelievable."
Logue pocketed $200 for winning the DeKalb Asgrow dash, earning the pole start in the main event as well.
After cautions on laps two and four, the rest of the 30-lap feature ran green.
"Jared (Boumeester) challenged on lap 10 and that told me I'd better step up my game," Logue said. "I wasn't sure who was moving through the field but the laps really clicked off. It felt like we got to halfway, then I was taking the white flag."
"I thought 'Holy cow, we're going to win this thing.' I just made sure I hit my marks on the last lap."
Logue's lead was scored at two seconds with five laps left and at just more than a second and a half at the finish.
Jamie Anderson started last in the field of 24, finished 12th and earned the $100 LG Seeds hard charger award,
Austin Wolf was the IMCA Modified winner. Kelly Shryock paced the IMCA Sunoco Stock Cars and Drew Barglof won the IMCA Sunoco Hobby Stock main.
The MaxYield Seed SportMod Nationals had been postponed a week because of inclement weather.
Feature results – 1. Johnathon Logue; 2. Brayton Carter; 3. Jared Boumeester; 4. Jake McBirnie; 5. Jim Chisholm; 6. Doug Smith; 7. Colby Fett; 8. Cody Thompson; 9. Nate Whitehurst; 10. George Nordman; 11. Doug Cook; 12. Jamie Anderson; 13. Josh Appel; 14. Dallas Nutt; 15. Jake Sachau; 16. Cam Reimers; 17. Alec Fett; 18. Carter VanDenBerg; 19. Matt Looft; 20. Jeff Carter; 21. Mathew Hanson; 22. Ronald Hults; 23. Carter Shumski; 24. Dakota Sproul.