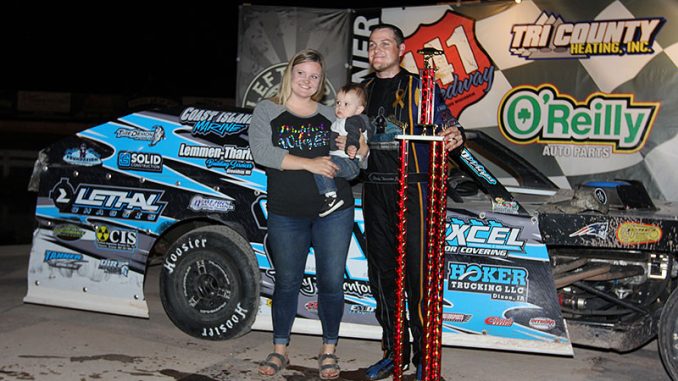 FRANCIS CREEK, Wis. (June 20) – The much-traveled Ricky Thornton Jr. made another stop in victory lane Thursday night, this time at the end of a $10,000 payday. 
Thornton led the last 45 of the 50 laps in repeating as winner of the Clash at the Creek main event for IMCA Modifieds at 141 Speedway.
"This event is definitely near the top of my list of wins. It's huge," he said. "The track fits my driving style and there were a lot of good cars here. Realistically, everyone in the feature had a shot to win it."
Pole starter Terry Phillips was second and 13th starting Hunter Marriott ended in third. Rounding out the top five were Jordan Grabouski and Tim Ward.
Hard charger Joey Taycher took the initial green flag last in the field of 24 and finished 10th.
Thornton had started third and made his run at Phillips and the lead following an early restart. There was only one caution when Thornton was in front and the race ended with 35 green flag circuits.
"I lapped just a handful of cars, so traffic was never much of a factor," Thornton said. "I preferred the lower line but I could run wherever.
A multiple-time qualifier for the Fast Shafts All-Star Invitational ballot, Thornton has now won 17 of his 28 IMCA Modified starts this season, at 11 different tracks in five states. He's also won four of seven IMCA Sunoco Stock Car outings.
"We wanted to concentrate on the Modified here because we knew they'd have so many good cars," he said of the decision to leave the Stock Car at home. "We wanted to put all our focus on the Modified."
A pleasant surprise that followed the post-race check presentation was the temperature of 141's infield pond.
"It was warmer than I expected it to be," Thornton said after the traditional post-race dip. "I thought it would be freezing."
Modified qualifying started Wednesday at Francis Creek; nine states were represented in the feature at the 11th annual event.
Grabouski, another two-division star, and Rod Snellenberger were IMCA Sunoco Stock Car winners at the Clash. Cody Schroeder and Travis Hansen topped Karl Kustoms Northern SportMod features.
Feature results – 1. Ricky Thornton Jr.; 2. Terry Phillips; 3. Hunter Marriott; 4. Jordan Grabouski; 5. Tim Ward; 6. Jeff Larson; 7. Lucas Lamberies; 8. Cody Laney; 9. Todd Dart; 10. Joey Taycher; 11. Shawn Kilgore; 12. Brock Bauman; 13. Josh Long; 14. Benji LaCrosse; 15. Joel Rust; 16. Marcus Yarie; 17. Mike Mullen; 18. Lance Mari; 19. Jason Hughes; 20. Johnny Whitman; 21. Greg Gretz; 22. Tanner Black; 23. Justin Ritchie; 24. Jake O'Neil.