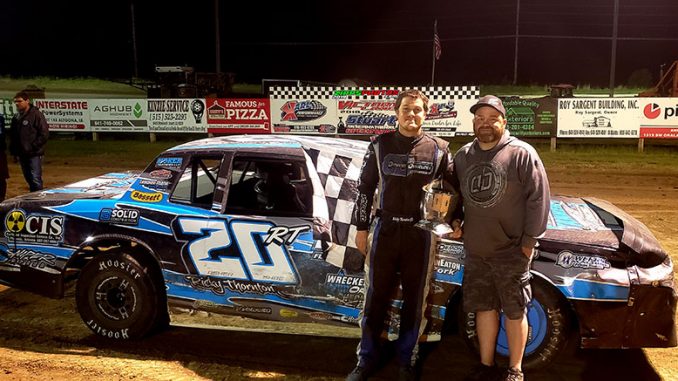 By Josh Reynolds
STUART, Iowa (June 12) – Another big-money event ended with Ricky Thornton Jr. in victory lane, this time in an IMCA Sunoco Stock Car.
The multi-division star raced from eighth starting to win the 50-lap headline event at Stuart Speedway's Dynamic Drivelines Dirt Duel presented by Sniper Speed & Midstate Machine Wednesday night. The checkers were good for $3,000 and came ahead of Abe Huls and Johnny Spaw.
Huls had taken the early lead over Elijah Zevenbergen and Spaw before the yellow flew on lap three. Huls led the next circuit with Zevenbergen taking over on lap five.
Zevenbergen led one more lap until he went into a wild spin in turn two to bring out the second and what proved to be final yellow of the night.
Once the green came out again it was Huls leading Thornton and Spaw. Thornton followed in Huls' tire tracks until making his move on lap 18 and taking over the front spot.
As the racing surface slicked off, cars moved to the bottom of the track and Thornton encountered lapped traffic around lap 40. Huls had several opportunities to try and move Thornton but the front pair kept it clean and Thornton went on to take the win.
Huls, Spaw, Kyle Brown and 16th starting Josh Daniels completed the top five. Cayden Carter led start to finish in the Manufacturers' Race and pocketed $1,000.
Brayton Carter topped the $2,000 to win Karl Kustoms Northern SportMod feature and Corey Madden led start to finish in the $1,500 to win IMCA Sunoco Hobby Stock main.
Carter shot into the lead following an early restart in the SportMod 40-lapper, then was challenged by Johnathon Logue and Carter Vandenberg following a caution at midway.
Logue found his way to the front and Carter fell back as far as fifth; he bounced back to regain the lead on the 30th circuit, then sailed to the win as Logue got the best of Chase Rudolf in the race for second.
Madden, Dylan Nelson and Eric Knutson ran 1-2-3 much of the distance in the Hobby Stock main before a late caution set up a green, white, checkered finish.
Nelson gave it everything he had but there was no getting past Madden before the checkers flew.
Josh Gilman was the IMCA Modified winner.
Feature Results
Stock Cars – 1. Ricky Thornton Jr.; 2. Abe Huls; 3. Johnny Spaw; 4. Kyle Brown; 5. Josh Daniels; 6. Marcus Fagan; 7. Cody Gustoff; 8. Richie Gustin; 9. Mike Nichols; 10. Derrick Agee; 11. Todd Reitzler; 12. Jay Schmidt; 13. Cayden Carter; 14. Bryan Snell; 15. Buck Schafroth; 16. Dusty Van Horn; 17. Scott Davis; 18. Shawn Ritter; 19. Brandon Pruitt; 20. Donavon Smith; 21. Luke Lemmens; 22. Aaron Stolp; 23. Joe Zrostlik; 24. Elijah Zevenbergen
Northern SportMods – 1. Brayton Carter; 2. Johnathon Logue; 3. Chase Rudolf; 4. Carter Vandenberg; 5. Tyler Inman; 6. Josh Foster; 7. Daniel Fellows; 8. Hunter Longnecker; 9. Cam Reimers; 10. Josh Appel; 11. Mitchell Morris; 12. Dusty Masolini; 13. Garrett Nelson; 14. Brandon Patava; 15. Colton Nelson; 16. Chris Burke; 17. Martin Bennett; 18. Ed Hamilton; 19. David Schwartz; 20. Kody Havens; 21. Bryan Morris; 22. Shane Paris; 23. Tony Olson; 24. Jake Sachau.
Hobby Stocks – 1. Corey Madden; 2. Dylan Nelson; 3. Solomon Bennett; 4. Chuck Madden Jr.; 5. Eric Knutson; 6. John Watson; 7. Kaden Reynolds; 8. Jack Phillips; 9. Tanner Dixon; 10. Nick Foster; 11. Travis Fenton; 12. Zach Hemmingsen; 13. Jamie Coady; 14. Matthew Wahl; 15. Richard Pahlka Jr.; 16. Ralph Jones; 17. Brandon Long; 18. Miciah Hidlebaugh; 19. Adam Ayers; 20. Kenzie Ritter; 21. Brandon Cox.