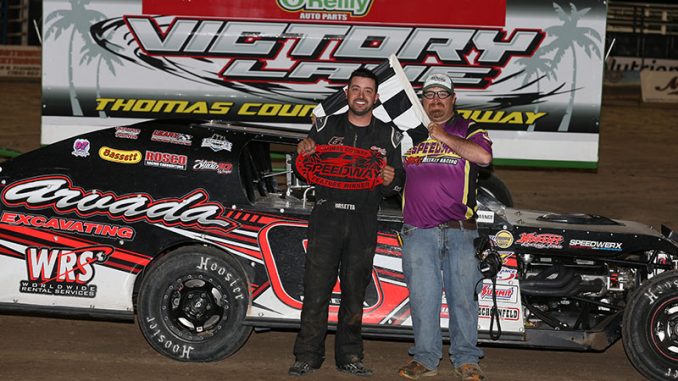 COLBY, Kan. (June 1) – Dominic Ursetta didn't need a lot of laps to shake any bugs out of his new ride. 
Ursetta debuted a new 2019 GRT by Phillips in winning Friday's IMCA Speedway Motors Weekly Racing program at Thomas County Speedway.
He followed up with the $3,000 Nutrien IMCA Modified Madness checkers at Colby on Saturday, beating Eddie Belec to the finish line by two-plus seconds.
"It took us a little while to find our line Saturday," said Ursetta, already on the Fast Shafts All-Star Invitational ballot. "Once we got into the lead we were able to pull away a little."
Tanner Black and Cody Gearhardt had started at the front of the Modified Madness field. Black powered to a sizable advantage in the early stages of the 25-lapper while Daniel Gottschalk worked to chase him down after moving to second from his seventh starting spot in just two laps.
Belec worked his way into the top three while Ursetta hustled into fourth after falling to seventh in the first couple circuits, before a lap 10 yellow bunched the field back up.
When the green flag flew again, Black continued to lead the way by running the bottom lane, while Belec, who had slid past Gottschalk for the runner-up position, was methodically working the very top edge of the racetrack in pursuit.
Just past the halfway point, Belec made his move, taking the lead from Black on lap 14. A four-car battle ensued for the next handful of laps, before Ursetta motored to the lead on the 18th circuit.
As Ursetta began to drive away from the field, maneuvering lap traffic with ease, Belec tried everything he could to reel him back in.
Belec was forced to settle for second, however, with Gottschalk, Black and Jordy Nelson completing the top five.
Action returns to Thomas County Speedway with the Jeff Hartwell Memorial on Friday, June 14, and the $3,000 to win Holly Enterprises Stock Car Stampede on Saturday, June 15.
Sanctioned Modifieds, Stock Cars, Hobby Stocks, Northern SportMods and Sport Compacts race both nights, with the Friday card being a draw/redraw in all divisions. During the Saturday program, Stock Cars will run the same qualifying format as used during Nutrien Modified Madness.
Feature results – 1. Dominic Ursetta; 2. Eddie Belec; 3. Daniel Gottschalk; 4. Tanner Black; 5. Jordy Nelson; 6. David Murray Jr.; 7. Clay Sellard; 8. Clay Money; 9. Kyle Rohleder; 10. Tyler Sutton; 11. Mark Leiting; 12. Nick Link; 13. Matt Morris; 14. Ronnie Hill; 15. Dave Pedersen; 16. Chris Remetes; 17. Todd Schwarz; 18. Rich Tegethoff; 19. Cody Gearhart; 20. Dylan Sherfick.