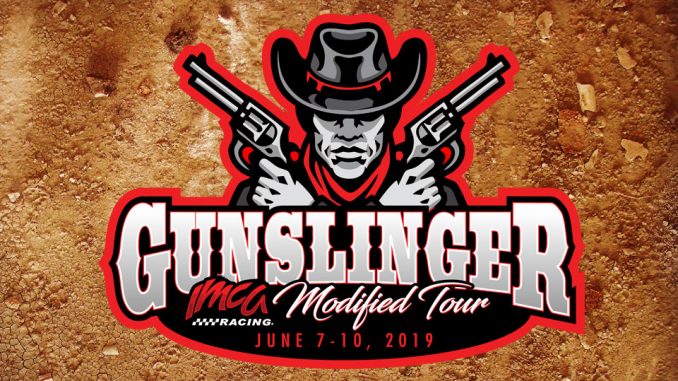 BILLINGS, Mont. – Four dates and a pair of Fast Shafts All-Star Invitational ballot qualifying events comprise the upcoming Gunslinger Tour.
IMCA Modifieds race for $600 to win on Friday, June 7 and for $1,000 to win on Saturday, June 8 at Big Sky Speedway in Billings, Mont.; and for $600 to win on Sunday, June 9 and for $1,000 to win on Monday, June 10 at Wyoming's Sheridan Speedway.
Top driver in points for the four shows now earns an additional $1,000 plus a championship belt. Second place gets $750, third place gets $500, fourth place gets $400 and fifth in points is good for $300.
In addition to tour points, IMCA Speedway Motors Weekly Racing National, Larry Shaw Race Cars Western Region, E3 Spark Plugs State and track points will be awarded.
Entry fees are $50 for $600 to win shows and $100 for $1,000 to win shows; minimum start money is $40 on Friday and Sunday and $75 on Saturday and Monday. Saturday non-qualifiers get $50.
Pit gates open at 4 p.m. all four days. Racing starts at 7:25 p.m. sharp at Big Sky and at 7 p.m. at Sheridan.