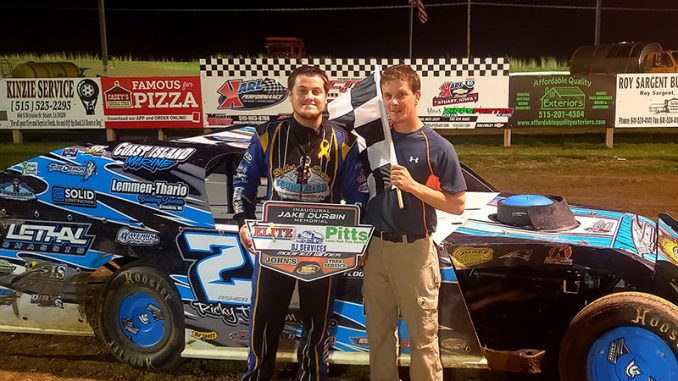 By Josh Reynolds 
STUART, Iowa (May 15) – There was no catching Ricky Thornton Jr. in the race to the $1,000 IMCA Modified checkers Wednesday at Stuart Speedway's inaugural Jake Durbin Memorial.
Thornton, already on the Fast Shafts All-Star Invitational ballot, and Jesse Dennis drew the front row starting spots and it was Thornton jumping out to the early lead.
Kyle Brown and Nick Roberts battled for second with Brown holding it down for the first six laps. Roberts got past Brown on lap seven, just before a caution flew. Two more quick yellows on laps 12 and 13 allowed Hunter Marriott to get past Brown and Roberts and on Thornton's bumper.
That was as close as anyone was coming on this night, however, as Thornton roared off into the sun­set to take the win. Marriott finished second with Dennis third.
Brown started 11th, took over second on lap 10 and gained the lead the next time around in winning the IMCA Sunoco Stock Car feature.
A lapped car came into the mix as the leaders drove through the second set of turns and as the checkered flag in the IMCA Sunoco Hobby Stock main.
Corey Madden went for a spin and Shannon Anderson was the first car to the line with John Wat­son second and Madden backwards in third. After a review by race officials, Anderson was docked two spots and the win was given to Watson.
There was no denying Brayton Carter in the Karl Kustoms Northern SportMod main. He raced from eighth starting to win in front of Tyler Inman.
Twelfth starting Ramsey Meyer was the Mach-1 Sport Compact winner.
The defending national champion needed less than three laps to knife his way all the way up to second, then passed Denny Berghahn Jr. for the lead.
Feature Results
Modifieds – 1. Ricky Thornton Jr.; 2. Hunter Marriott; 3. Jesse Dennis; 4. Kyle Brown; 5. Nick Roberts; 6. Josh Gilman; 7. Matt Bonine; 8. Shane DeMey; 9. David Brown; 10. Bob Daniels; 11. Cory Sauerman; 12. Jeff Wiggins; 13. Tony Hilgenberg; 14. Jason Pestka; 15. Cody Hillgartner; 16. Josh Most; 17. Matthew Meinecke; 18. Scott Bash; 19. Jason Purvis.
Stock Cars – 1. Kyle Brown; 2. Buck Schafroth; 3. Todd VanEaton; 4. Shawn Ritter; 5. Brandon Pruitt; 6. Bryan Snell; 7. Chris Pruitt; 8. Josh Daniels; 9. Brock Badger; 10. Anthony Goldsberry; 11. Craig Carlson; 12. Chad LeGere; 13. Michael Bilyeu; 14. Jeremy Gettler; 15. Cody Gustoff; 16. Mich Ross; 17. Bill Heinkel II; 18. Jesse Lund; 19. James Carroll.
Hobby Stocks – 1. John Watson; 2. Corey Madden; 3. Shannon Anderson; 4. Dylan Nelson; 5. Miciah Hidlebaugh; 6. Solomon Bennett; 7. Chuck Madden Jr,; 8. Brandon Cox; 9. Eric Knutson; 10. Dallas Larson; 11. Korbin Nourse; 12. Richard Pahlka Jr.;m13. Matthew Wahl; 14. Tanner Dixon; 15. Jack Phillips; 16. Matt Tiernan; 17. Nick Foster; 18. Adam Ayers.
Northern SportMods – 1. Brayton Carter; 2. Tyler Inman; 3. Cody Olsen; 4. Cody Thompson; 5. Chase Rudolf; 6. Kody Havens; 7. Chris Burke; 8. Jerry Hinton; 9. Hunter Longnecker; 10. Martin Bennett; 11. Bryan Morris; 12. Kyle Tanner; 13. Mitchell Morris; 14. Garrett Nelson; 15. Brandon Patava; 16. Mark Menard; 17. Matt Hays; 18. Ronnie Hults; 19. Colton Nelson; 20. Johnathon Logue; 21. David Schwartz; 22. Jon Strabley; 23. Jeremiah Reed; 24. Gage McNeeley.
Sport Compacts – 1. Ramsey Meyer; 2. Denny Berghahn Jr.; 3. Jake Benischek; 4. Travis Graspy; 5. Colton Garside; 6. Mitchell Bunch; 7. Luke Benischek; 8. Benji Clemons; 9. Alyssa Steele; 10. Nikole Kimmel; 11. Joe Mastin; 12. Curtis Masterson; 13. Hunter Patrick; 14. John Gill; 15. Kolby Sabin; 16. Bruce Hower; 17. Tyler Fiebelkorn; 18. Terry Hurley; 19. Elijah Hoyt; 20. Kristopher Pinckney.