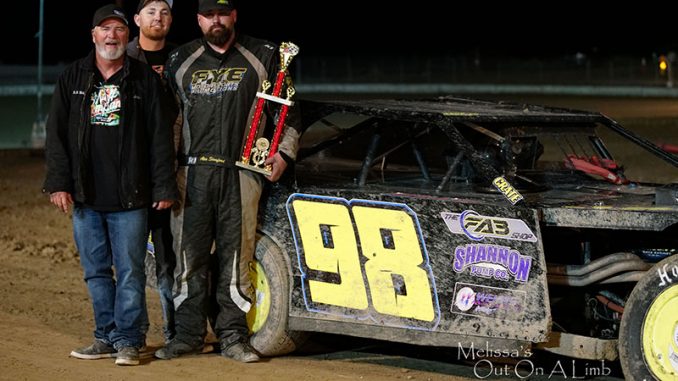 PAHRUMP, Nev. (March 2) – February starts in Arizona helped put California IMCA Modified driver Alex Stanford in victory lane in Nevada.
Stanford topped Saturday's Stormin' Mormon special at Pahrump Valley Speedway, passing Ethan Dotson for the lead 30 circuits into the 40 lapper and then holding Hunter Marriott at bay for the $2,000 checkers.
"I was able to pick cars off one at a time after the field started to spread out," said Stanford, who had started seventh. "There were a couple cars I went around but the bottom was the place to be. I just concentrated on hitting my marks and got them one at a time."
"There were some yellows at the right time so the leaders didn't get away from me," he added. 
Kollin Hibdon led early from the pole before the sixth starting Dotson took over up front on lap six. Marriott, coming off the midweek victory at Las Vegas Motor Speedway, charged into contention late in the contest.
Stanford, however, pulled away following a restart with five laps to go, sticking to the dominant lower line to win ahead of Marriott, Dotson, Travis Peery and Randy Thornell.
The checkers, Stanford's first of the 2019 IMCA Speedway Motors Weekly Racing point season, came after four Arizona Modified Tour starts.
"We definitely learned a lot there this year and got the car working really good," said Stanford, already on the Fast Shafts All-Star Invitational ballot. "It's always nice to go to Arizona, get dialed in and get everything working the way I want it to."
Feature results – 1. Alex Stanford; 2. Hunter Marriott; 3. Ethan Dotson; 4. Travis Peery; 5. Randy Thornell; 6. Austin Kiefer; 7. James Thibodeaux; 8. Blake Thornell; 9. Joey Price; 10. Kollin Hibdon; 11. D.J. Shannon; 12. Donald Riley; 13. Jon Mitchell; 14. Cody Laney; 15. Clifton King; 16. Mike Wells; 17. Clint Reichenbach; 18. Bryan Wulfenstein; 19. Josh Stringer; 20. Shaun Moore.