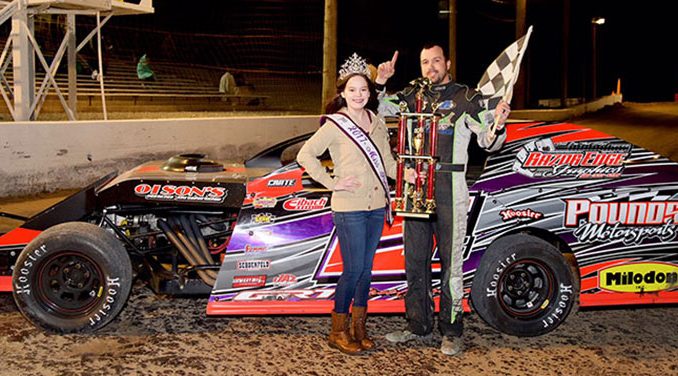 PAHRUMP, Nev. (March 3) – Brad Pounds recalled finishing third in a street stock feature in his first visit to Pahrump Valley Speedway some 11 years ago.
He has a lot more to remember from his second visit.
Pounds led the last six laps in winning Saturday's Stormin' Mormon Memorial special for IMCA Modifieds, earning both $3,000 and a Fast Shafts All-Star Invitational ballot berth.
"This was one of my better paying wins, especially for this early in the season," said the Bakersfield, Calif., veteran, who had taken the initial green flag from the 12th spot. "I had a good car. I could go wherever I wanted. I was able to get up to fourth really quick and then ran side-by-side with Bobby Hogge IV for about five laps before I cleared him."
With traffic running three and four-wide, Pounds caught R.C. Whitwell for second on the 32nd of 40 laps before setting his sights on pole starter and race-long leader Cody Laney.
"I found a little cushion up top after the last restart, then passed Cody on the bottom," said Pounds, who took the checkers three car lengths ahead of Laney.
Whitwell, Alex Stanford and D.J. Shannon completed the top five.
Shannon ran second in the early going. "B" feature winner Chad Reichenbach was sixth. Thirty Modifieds vied at the inaugural special.
Saturday's win was the second of the season and IMCA career 116th for Pounds. With twin sons Kasey and Cole turning two in April, he'll race closer to home this season, with some more specials sprinkled "here and there."
Feature results – 1. Brad Pounds; 2. Cody Laney; 3. R.C. Whitwell; 4. Alex Stanford; 5. D.J. Shannon; 6. Chad Reichenbach; 7. Bobby Hogge IV; 8. Zach Olson; 9. Robby Sawyer; 10. Danny Lauer; 11. Josh Combs; 12. Rich Horibe; 13. Randy Thornell; 14. Casey Delp; 15. Joey Price; 16. James Thibodeaux; 17. Bryan Wulfenstein; 18. Rob Sanders.