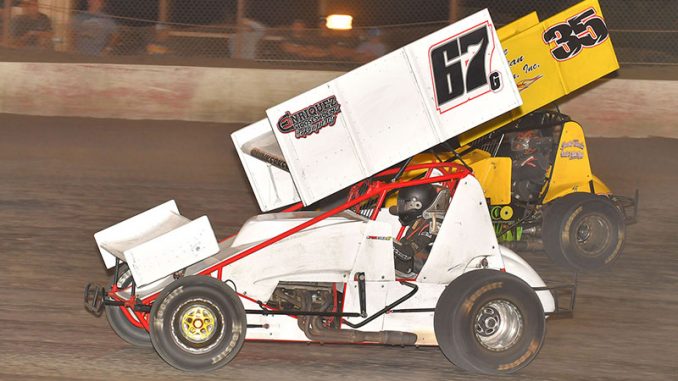 RIVERDALE, Calif. – His national rookie of the year campaign in 2017 laid the foundation for Grant Duinkerken's Western RaceSaver Sprint Series championship this year. 
Duinkerken won six times and finished outside the top three in just two of 17 starts, earning Califor­nia State honors along with the IMCA RaceSaver Sprint Car tour crown.
"After getting a full year of 305 races in, everything just worked out for me," said Duinkerken, 18 years old and from Riverdale. "We had the setup right for the different tracks and had a little bit of luck with the draw during the season. I went into the year with more confidence and I think I did a better job driving."
His win in the series opener March 31 was also Duinkerken's career first victory in the division.
He won twice at Thunderbowl Raceway and once each at Bakersfield Speedway and Ocean Speed­way before wrapping up the series championship in the Sept. 22 finale at Santa Maria Race­way.
"That first win was amazing. It was the first race my girlfriend was at and my dad was really proud of me," Duinkerken said. "It was a good way to start the season and we knew we had a pretty good chance to win the series."
He left his high school prom early, started 22nd and worked his way up to third in the May 12 se­ries event at Keller Auto Speedway. Now a student at West Hills Junior College in LeMoore, Duinkerken will return to the division on a part-time basis in 2019.
Wins-6 Top Five Finishes-15 Starts-17
HIS CREW: Father Roger, brothers Beau and Jacob, and Mark Ekberg.
HIS SPONSORS: Duinkerken Auto Body and G & P Enterprises, both of Hanford; King Racing Products of Visalia; grandmother Goose Duinkerken; Loogman Farms of Laton; KW Shocks from Jeff Gardener of Fresno; Enriquez Horse Shoeing of Riverdale; and Allard Racing Engines of Ennis, Texas.