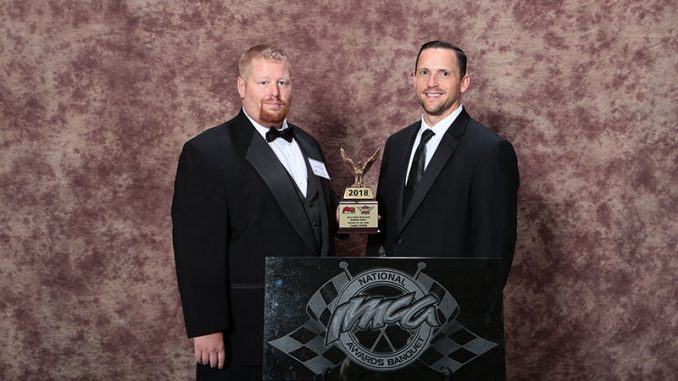 ORION, Ill. – A couple good seasons in another class convinced Chad Coyne that 2018 was the right time to make the move to an IMCA Late Model.
The Deery Brothers Summer Series rookie of the year award proved that decision to be correct.
The Orion, Ill., driver qualified for 10 of the 11 events he entered and finished 12th overall in point standings for the Late Model Tour. He experienced the highs of winning a heat race at Benton County Speedway to the lows of totaling his car at Fayette County Speedway during a learning 2018 season.
"I had raced the 'B' modifieds, mod-lites and then outlaw street stocks before the Late Model," said Coyne. "I had always told myself that someday I would drive a Late Model. We had two good years in a street stock before the right deal came along and I bought one. We decided to go all out this year and try to win Deery Series rookie of the year and we got it done."
He lost a back-up motor early in the season and finished in a back-up ride purchased from Chad Holladay. Coyne complemented his tour starts with 13 IMCA Speedway Motors Weekly Racing outings, most of them at familiar Quad City Speedway.
"The Deery Series can be intimidating but I knew I was out there with an awesome group of driv­ers that likes good, hard racing," he said. "Out of all the divisions I've been in, the other Late Model drivers were the most help. Guys like Justin Kay or Jeremiah Hurst would be giving up point­ers or loaning a shock. Gary Webb was a huge help."
Crew chief Phillip Randall has been with Coyne for 15 race seasons. Their 16th will take them back to the Deery circuit and weekly shows at East Moline, as well as to Davenport and Maquo­keta when work and other family plans allow.
"My wife Heather and my parents are really the backbone of our racing program," he said, "from all the long nights in the shop to chasing parts for us."
Wins-0 Top Five Finishes-0 Starts-11
HIS CREW: Parents and car owners Doug and Sue Coyne, wife Heather, sons Austin and Char­lie, cousin Ethan and Phillip Randall.
HIS SPONSORS: Shepherd Engine Development of Solon, Iowa; Kendall Performance, Coyne Family Farms and Larry and Wendy Coyne, all of Milan; Woodhull Oil of Woodhull; JC Dubil of Bettendorf, Iowa; DOC Enterprise and Triple E Sales & Service, both of Orion; and AJ's Trucking of Sherrard.