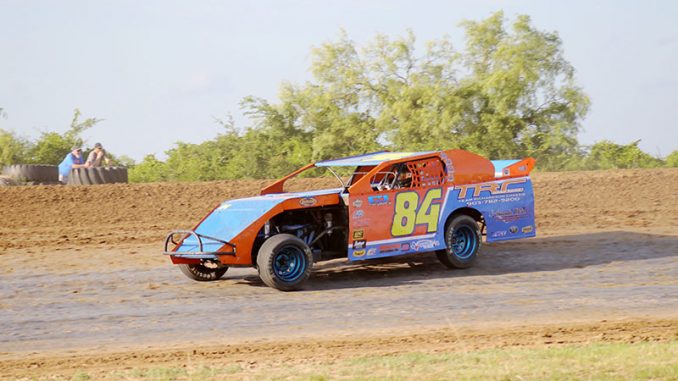 ECTOR, Texas – Two firsts and a third made for a pretty good season for Rodney White. 
White won championships in both the inaugural IMCA Red River Tour and at Grayson County Speed­way before ending the year third in the Smiley's Racing Products Southern SportMod national points race.
From Ector, Texas, White made a career-high 44 starts at nine different tracks. He'd never been to four of the six venues on the Red River Tour slate before 2018.
While White never got to the podium during the tour, he had a couple top five finishes and earned the title by racing his way from 'B' features to the main events on four nights.
"There were a couple nights I didn't even expect to do that good. Grayson County and Heart O' Texas Speedway were the only tracks where I didn't have to run a 'B,'" said White, who'd seen his motor expire early in his heat race on opening night at Kennedale Speedway Park. "It's al­ways good to go to that many tracks where you've never been before and do something worth mentioning."
He'd started the season in March with back-to-back wins at Boyd Raceway and KSP. An April crash at Boyd cost some starts while the car was being repaired.
White made his final nine starts of the season at Grayson County, winning twice en route to a career third title at the Bells oval.
He was a nine-time winner in all this season.
Wins-0 Top Five Finishes-2 Starts-6
HIS CREW: Father Jeff, wife Amanda, children Hudsyn and Harlyn, Loni and Cindy Richardson, and Kyle Bryson.
HIS SPONSORS: TRC Chassis of Denison; Whitey Race Engines of Ector; Amanda White at Big Apple Salons, Lone Star Food Stores and Douglas Distributing, all of Sherman; Rhino Rear Ends of Mission; Speedway Motors of Lincoln, Neb.; Landrum Springs of Mentone, Ind.; AFCO of Boon­ville, Ind.; Sweet Manufacturing of Kalamazoo, Mich.; Bryan Agri Products of Durant, Okla.; and Total Custom Carbs of Walker, La.