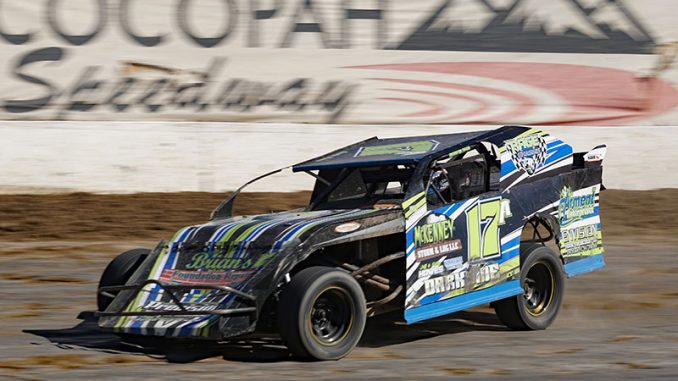 MEMPHIS, Mo. – Austin Howes admitted to having some concerns about finding the tracks during his travels on the Karl Performance Arizona IMCA Tour. 
He didn't have any problem finding the fastest way around them once he got there.
Howes chalked up a win and six top five finishes in topping point standings for the Karl Chevrolet Northern SportMod half of the February tour. The Memphis, Mo., driver wrapped up the title with a convincing run to the checkers in the finale at Cocopah Speedway.
"It was a lot of fun to go out there without knowing anything about the tracks, run with the guys who race at them weekly and beat them," he said. "This definitely has been the highlight of my career so far."
Working his way up from mid-pack or deeper starts most nights, Howes made up for a DNF in the Canyon Speedway Park show to win the tour crown. Second- and third-place finishes at Somerton preceded his victory on championship night.
Closer to home, he'd race at nine different tracks in four states, winning four times. Three of those checkers came at Quincy Raceway.
Wins-1 Top Five Finishes-6 Starts-8
HIS CREW: Kiersten Pratt and Kelvin Gale.
HIS SPONSORS: McKenney Storm and Log of Clarksville; Brian Foundation Repair of Edina; Arment Enterprises of Columbia; Kelvin Gale Farms of What Cheer, Iowa; Precision Performance of Oxford, Iowa; Outdoor Power of Quincy, Ill.; and Envision Home Inspection of Port St. Lucie, Fla.