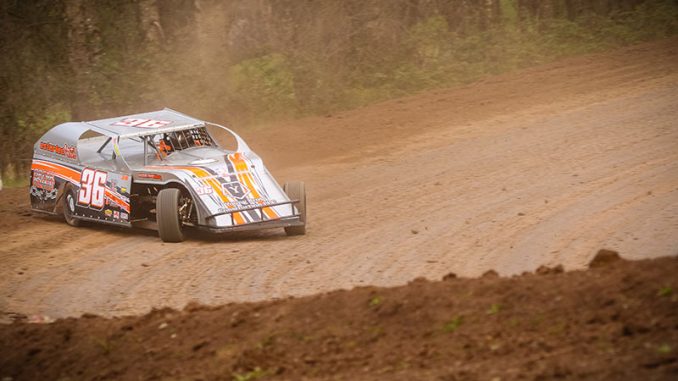 KEIZER, Ore. – John Campos made a family vacation out of the eight-race Wild West Shootout.
His consistency made him champion of the eighth annual tour for IMCA Modifieds.
Campos, from Keizer, Ore., ran eighth on opening night and then sixth in each of the next two shows in the California and Oregon-based tour. He then reeled off five straight top four finishes, sealing the title with back-to-back third place finishes at Willamette Speedway.
"I had followed the tour twice before. I stayed consistent and came out on top this year," Campos said. "I get excited to run this tour. I look at it as a vacation. We took the family along (daughter Bristol celebrated her birthday on tour the first two years) in a motor home."
He started fast but not fast enough at Siskiyou Motor Speedway, Southern Oregon Speedway and Coos Bay Speedway, then started to right the ship with a third place outing at Cottage Grove Speedway.
"We found some stuff that was off," Campos explained. "Then we started picking up the top three's."
A former open late model driver, Campos started racing a Modified in 2013 and with IMCA in 2015. He won four features in 29 starts overall this season, taking the checkers twice at Willamette Speedway and two more times at Sunset Speedway Park.
Neighbor turned crew chief Don Wolff had been a long-time fan at Willamette and was pleasantly surprised to learn of Campos' hobby when he moved in down the street. Part of the Break the Chain racing team, which advocates for victims of violence and abuse and raises awareness about social issues like sex trafficking and suicide, Campos has already sold his car and will race part-time before returning with new goals in 2020.
"We had a good season and will race part-time next year while we do family things," he said. "We'll come back in 2020 and travel more and venture out."
Wins-0 Top Five Finishes-5 Starts-8
HIS CREW: Don Wolff.
HIS SPONSORS: Northwest Family Chiropractic and Salon Wisp, both of Salem; Esterlee Motel of Lincoln City; Young Brothers Construction of Burns; Roger That BBQ of West Salem; Finishline Graphics of Scapoose; and US Inspection Services of California.