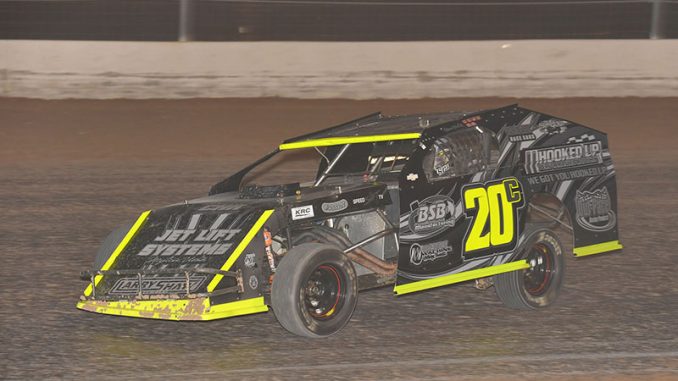 MYTON, Utah – Chase Hansen has celebrated four IMCA Modified track championships at Dia­mond Mountain Speedway.
He finally got to celebrate a special series championship there this year.
Hansen, from Myton, Utah, won the inaugural Sweet Diamond Challenge Series title, with the top point total from four races at Diamond Mountain and four more at Sweetwater Speedway.
"It was pretty cool to get my first series championship," he said. "I came close the last year of the Wild West Tour. It's something I always wanted to do."
Hansen had put himself in the series driver's seat with a sweep of the series-opening twinbill at Vernal in June.
"We were fast that weekend," he understated. "On the second night I passed my brother Dustin for the lead with about four laps to go. He was driving my other car and it was neat that both cars were battling for the win."
With the responsibilities of his own business to tend to, Hansen ran a limited schedule in 2018 and had three wins overall in 22 starts. He traveled to Batesville Motor Speedway for Race For Hope 74 and to Las Vegas Motor Speedway for the Duel in the Desert, two of the events that he hopes to have back on his sched­ule in 2019.
"I really want to do more traveling. There are a lot of races I would like to go back to, like Race For Hope and the Duel, and maybe the Kupper Chevrolet Dakota Classic Tour, too."
Wins-2                    Top Five Finishes-4           Starts-8
HIS CREW: Guy Gardner.
HIS SPONSORS: Jet Lift Systems, Chase Hansen Racing and Hooked Up Performance Products, all of Myton; Signs N Lines and Pumpers Inc., both of Roosevelt; A&D Pump Parts of Arcadia; Simper Racing of Vernal; Smack Daddy's of Price; Speed Shift TV; Speedway Motors Crate Engines of Lincoln, Neb.; Larry Shaw Race Cars of Batesville, Ark.; Wright Race Cars of Rock Springs, Wyo.; Bassett Racing Wheel of Burling­ton, Wis.; Wehrs Machine and Racing Products of Bangor, Wis.; BSB Manufacturing of Welling­ton, Kan.; KRC of Lockwood, Mo.; Out-Pace Racing Products of Freeport, Ill.; Schaeffer's Specialized Lubricants of Farmington, N.M.; and Hammond Motorsports of DeWitt, Iowa.