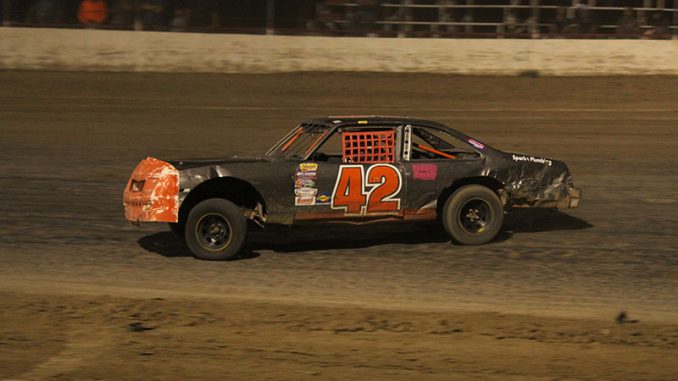 CORTEZ, Colo. – A decade after hanging up his helmet, Richard Killingbeck returned to racing to earn rookie of the year honors in the Big Daddy Race Cars Southern Region for IMCA Sunoco Hobby Stocks.
From Cortez, Killingbeck became the first Colorado driver to win the regional ROY prize for the division on the strength of one feature victory and another 10 top five finishes in just 24 starts.
"I'd driven a Ford Escort years and years ago in a non-sanctioned wasp class. It had been 10 years since I raced but I'd been wanting to get back in it," he said. "I was out on the golf course one Saturday and heard the cars on the track hotlapping. I caught the bug and got pulled back in."
Getting a car was first on the to-do list. Killingbeck used Facebook to locate a pure stock in Price, Utah, got it home and converted it to an IMCA legal ride.
He rebuilt it in just three days after a crash only six starts into the season. Killingbeck found victory lane five weeks later, in the July 6 show at Aztec Speedway.
"That was an exciting race. I was very pleased with the way my rookie season went and hopefully we can build on our success next year, he said. "I've got a lot of family and friends who have helped me this season. Jerry and Archie Clark let me use their shop for both the original build and the rebuild."
Killingbeck finished third in point standings at both Aztec Speedway and his hometown Montezuma County Fairgrounds Speedway.
He was also third in the Border State Challenge for drivers at the two tracks.
"My biggest goal at the start of the season was to stay in the top 10 points for that. Then I adjusted my goal to stay in the top three," said Killingbeck. "I looked on the IMCA website and in the IMCA newsletter and saw my name rising in the rookie standings and kept racing for points."
Wins-1                    Top Five Finishes-11         Starts-24
HIS CREW: Father Gene Ring and Justin Lewis.
HIS SPONSORS: Advantage Glass, Champion Graphics and Sparks Plumbing, all of Cortez.